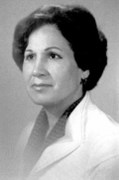 APPLICATIONS NOW CLOSED.
Dr. Adawia Alousi was a true renaissance woman: a scientist and educator with a multitude of passions. Originally from Iraq, the discoveries and scientific contributions of this pioneering researcher continue to improve and extend lives and her work has been the benchmark for pharmacological experimentation around the world. Dr. Alousi was truly a leader in an era when very few women were recognized for their accomplishments, let alone a foreign-born Arab woman. In a time when self-appointed experts attempt to define the face of the modern Muslim woman, Dr. Alousi's life reminds us it is only Muslim women who can speak about their lives, careers and choices with true authority.
Read more about Dr. Adawia Alousi and this Scholarship Fund
The Dr. Adawia Alousi STEM Scholarship Fund for Muslim Women provides financial assistance to American Muslim women pursuing science, technology, engineering and mathematics (STEM) fields in the United States. Launched at CAAP in 2016 with a $500,000 endowment, the Fund has awarded 122 scholarships totaling $330,000 over six years. The Alousi scholars are now part of a network of Muslim women STEM leaders from across the nation who are shattering the glass ceiling and making incredible contributions to society. Learn about our Alousi Scholars by clicking the years below.
---
Scholarship Details
It is anticipated that the Dr. Adawia Alousi STEM Scholarship for Muslim Women will be between $2,500 and $10,000 per student for undergraduate and graduate students. The scholarship may be renewable for students maintaining satisfactory academic performance. The Fund will make all grant distributions directly to the student's affiliated college or university. All colleges and universities must be accredited and be located within the United States. The following requirements must be met in order to apply:
Be accepted into a STEM program at an accredited university in the United States
Identify as a Muslim woman
Demonstrate financial need
GPA and Test Scores:

For incoming freshman, high school GPA of 3.6 or higher; ACT score of 29 or higher (or SAT equivalent)
For currently enrolled undergraduate students: cumulative GPA of 3.5 or higher
For graduate students: cumulative GPA of 3.4 or higher

List research experience and/or service activities in community, including work done through student organizations
Agree to provide career data upon graduation
*Please note that because we receive such a large volume of applicants, this scholarship is highly competitive. Our current average acceptance rate is 12%.
View the full application here
Applications are now closed. 
Questions about the application, eligibility requirements, etc? Please view our FAQ page.
Alousi Scholarship FAQ Page
Additional Questions? Please contact Mikala Cox at mcox@accesscommunity.org