The Dr. Adawia Alousi STEM Scholarship Fund for Muslim Women provides financial assistance to American Muslim women pursuing science, technology, engineering and mathematics (STEM) fields in the United States. Launched at CAAP in 2016 with a $500,000 endowment, the Fund has awarded 122 scholarships totaling $330,000 over six years. Learn about our Alousi Scholars by clicking the years below.
About the Fund
The Alousi Fund is the first and only one of its kind, and honors the incredible legacy of pioneering research scientist Dr. Adawia Alousi. It is the wish of the Adawia Alousi Trust that the Dr. Adawia Alousi STEM Scholarship Fund for Muslim Women at the Center for Arab American Philanthropy (CAAP) will carry on the accomplishments of this remarkable woman. In a time when self-appointed experts attempt to define the face of the modern Muslim woman, Dr. Alousi's life reminds us it is only Muslim women who can speak about their lives, careers and choices with true authority.
The Fund supports American Muslim women to obtain education within STEM fields – placing highest priority on immigrants and refugees. Dr. Alousi would be honored to welcome you into the sisterhood of scientists (and other STEM careers). Our hope is that beneficiaries of the Fund – Adawia Alousi Scholars – will rise to the top, epitomize excellence in their respective fields, and carry Dr. Alousi's spirit of generosity forward.
About Dr. Adawia Alousi
Dr. Adawia Amina Alousi was born in Baghdad, Iraq in 1931 into a tight-knit family who valued education. She was the youngest girl in a family of seven children–3 sisters and 3 brothers. Her father Amin Alousi was a hydraulic engineer and insisted each of his children receive a college education. Prior to his death he left explicit instructions to his oldest son, Adawia's brother Majid (pictured right), that he ensure each of his youngest siblings attend and graduate from college before marrying; a request which was honored. Adawia gravitated toward science and graduated from University of Baghdad with a degree in pharmacology.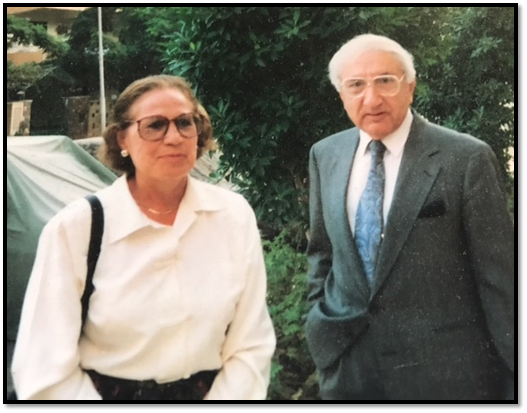 In 1958, Adawia's brother Majid (a physician attending Harvard School of Public Health on scholarship) supported Adawia to come to the US for advanced studies. She graduated with a Master's Degree from the University of Michigan in 1959 and subsequently went on to earn a Ph.D. in Pharmacology from the State University of New York. After completing a post-doctoral fellowship from Harvard Medical School in 1965, Dr. Alousi went on to lead a life of discovery and development in pharmacology. Her research was well-regarded which is reflected in the body of papers in esteemed medical journals including the New England Journal of Medicine, Circulation, and American Journal of Physiology.
Dr. Alousi's most rewarding work was as lead scientist and Institute Fellow of Cardiovascular Pharmacology at Sterling-Winthrop Research Institute, outside of Albany, NY. She developed and brought to market a class of drugs that effectively treated congestive heart failure. She was also the lead scientist in the development of the drug Milrinone which was the first drug in its class to be FDA approved in the early 1980's; this was such a significant accomplishment that it was highlighted on the national news. Adawia was recognized in 1986 with a woman of achievement award from New York City's chapter of the YWCA.  Her discoveries and contributions to science continue to improve and extend lives and her work has been the benchmark for pharmacological experimentation around the world.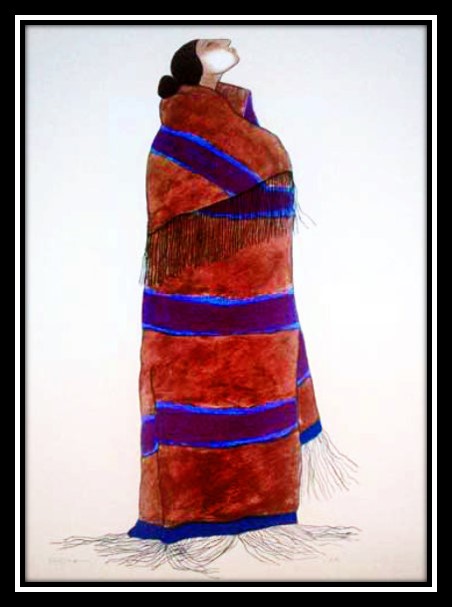 While Dr. Alousi devoted her life to her research, seeing her as one-dimensional would miss the true beauty in which she lived her life. She was a second mother to her 15 nieces and nephews, and a second grandmother to their children; always generous in her time and money to ensure they were able to pursue their life's passions. She loved to travel and was often accompanied on her journeys with her "sisters in science", lifelong friends she met while studying at SUNY and Harvard. Her travels often took her throughout Europe, Asia, Africa and the Middle East (including her life-changing trip to Mecca and her never forgotten home of Baghdad, Iraq). She was a fervent lover of the arts (some of her favorite paintings were by Native American artist R.C. Gorman – pictured left), a classical music and opera enthusiast, and an avid gardener. In addition, Dr. Alousi was truly a leader in an era when very few women were recognized for their accomplishments, let alone a foreign-born Arab woman. She was a vocal proponent that women in science receive recognition for their work in an era when male colleagues would often take the credit.
Read more about Dr. Adawia Alousi Apply to become an Alousi Scholar Give to this Fund