Serving Donors
We provide our donors with smart tools and the necessary resources to carry out their philanthropic giving. No matter your giving capacity, we offer a variety of charitable giving options tailored to fit your needs, and the expertise of CAAP staff to guide you through the process.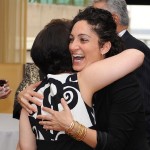 By launching a fund with CAAP, you are joining our generous community of donors, gaining access to a myriad of resources, and elevating the voice of the Arab American community.
Learn more about the types of funds we offer.
Start a Fund