The Dearborn TGI chapter is comprised of 20 youth from the Metro Detroit area. Established in 2011, TGI-Dearborn raises and grants $5,000 each year through a competitive grantmaking process.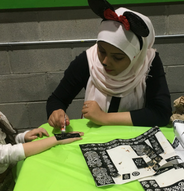 TGI-Dearborn youth go on to great things, such as studying at Ivy League schools, or becoming the Mawby Intern at the Council of Michigan Foundations.
TGI really does build young leaders, and empowers them to make positive change wherever they go in life!
Contact Us to Learn More
Donate to Support TGI