Whether you're looking for a partner to support your personal philanthropy, or you are a grantseeker searching for funding for an incredible cause, the Center for Arab American Philanthropy (CAAP) can help. We offer a range of grantmaking and giving services focused on our mission to promote, facilitate and celebrate Arab American charitable giving.
Through donor-advised funds, giving circles and impact area funds, we provide our donors with the resources, tools, and expertise required to make a meaningful impact on causes they care about.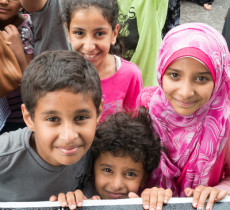 By making grants, training youth to give back and hosting impactful fundraisers, we are improving communities across the country and changing the narrative on Arab American civic engagement.
Interested in learning more about our grantmaking and giving services? We're happy to connect with you and discuss how we can help make your mission a reality.