This endowed fund was created to support the activities of the Arab American Association of Engineers and Architects (AAAEA) – Chicago Chapter. AAAEA is a professional organization that serves Arab American engineers, architects and computer science professionals in North America by providing career and educational enhancement programs, technical exchange, fellowship, and community service.
AAAEA holds its annual event every fall and on average over 300 Engineering professionals from the Arab community and community at large attend the event.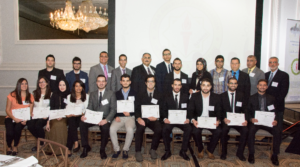 The major highlight of the event is the AAAEA Scholarship program. AAAEA awards over $20,000 each year in scholarships to Arab American students who are attending an accredited four year college or university majoring in Engineering, Architecture and Computer Science.
Give to This Fund
Learn more about AAAEA.