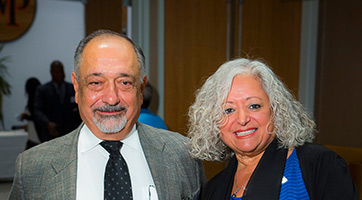 Education plays a critical role as a catalyst for social and economic change. Unfortunately, for many low-income and immigrant youth, a college degree is too often out of reach. Scholarships give vulnerable youth the opportunity to realize their future dreams through a college education.
Inspired to make an impact on the lives of young people, Basem and Muna Hishmeh, philanthropists and community leaders in New Jersey, established the Education Empowers Arab Americans Fund at CAAP to provide scholarships to low-income Arab American students attending William Paterson University of New Jersey (WPU). The Education Empowers Arab Americans Fund's purpose is to help ensure that young people have access to higher education for years to come.
Give to this fund and your donation will be matched!*
Give to This Fund
Download Our Flyer to Learn More
*Donations to this fund will be matched 100%, while funds last.