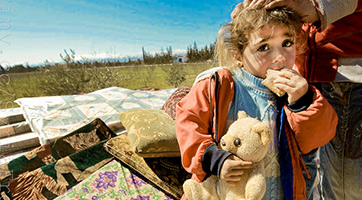 Our Disaster Relief Fund was created as a response to global humanitarian and environmental crises. This fund has supported a variety of international and domestic campaigns for disaster relief and recovery. Some of our larger campaigns have reacted to crises in Syria, Haiti, Gaza, and Japan, and not only focus on immediate relief but also aid with long-term recovery.
Current Campaign: Your Support is Urgently Needed in Turkey and Syria
A devastating 7.8 magnitude earthquake struck Turkey and Syria, killing more than 30,000 people, collapsing hundreds of homes, and thrusting thousands of people into homelessness.
As many families mourn the loss of their homes, livelihoods and loved ones, they are also forced to endure the bitter cold outside. , we must come together to support them. By giving to the Disaster Relief Fund at the Center for Arab American Philanthropy (CAAP), 100% of your donation will be granted to your choice of:
Syrian 

American

 Medical Society (SAMS), who is on the ground in Syria, delivering a comprehensive emergency response to save lives
Oxfam America, who is assessing the needs on the ground in Syria and Turkey and will provide protection, water and sanitation, shelter and food support, as well as long-term rehabilitation and reconstruction as needed
Multifaith Alliance for Syrian Refugees who is distributing medical supplies to organizations on the ground, and mobilizing additional emergency air and truck deliveries of food and warm clothing to affected areas of northwest Syria
And/or Saint Rita Foundation for Children who is providing medical supplies to first-responders,  clothes for families that have been affected, and supporting three large field kitchens to provide hot meals for thousands of survivors
So many members of our community have families in these areas, and we are deeply concerned for their safety. When we give smart and give together, we are able to magnify our impact.
Give to This Fund
Browse Grants From This Fund
Sign up for our newsletter to be alerted to available grant opportunities