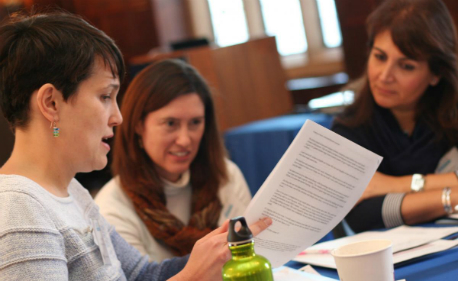 Applications are now closed.
The Arab American community is diverse, often misunderstood, underrepresented and understudied. With this in mind, Dr. Philip Kayal, chairman emeritus of the Department of Sociology and Anthropology at Seton Hall University, approached CAAP with his idea to support Arab American research. The Dr. Philip M. Kayal Fund for Arab American Research was established, fulfilling Dr. Kayal's desire to support young Arab American scholars and social science research on the Arab American community.
There is an enormous need for factual information on Arab Americans, and as an academic of Syrian ancestry, I wanted to help fill the void. I set up a research fund with the gracious help and support of CAAP, which made both the grant application and distribution process seamless. I never expected to be so pleased with the results. – Dr. Philip M. Kayal
In its first year, the Fund provided grant awards to six scholars across the country, with research topics ranging from stereotyping of Arab American adolescents to Palestinian cinema, to Yemeni farm workers and more. 2015 Grant awardee Claudia Youakim at the University of Florida, who is researching Arab American identity constructs among college students, says "I am honored to be a grant recipient of the Dr. Philip M. Kayal Fund for Arab American Research! I am excited to share my research on Arab American ethnic identity with others at upcoming conferences, and the opportunity to collaborate with fellow scholars."
To date, the Kayal Fund has now awarded more than $37,000 to 31 Arab American researchers across the country. By supporting effective research through the Kayal Fund, you will strengthen programs serving the community, educate Americans about the contributions of the Arab American community to this country. Enable Arab Americans to have a stronger voice to shape their future within American society – give to the Kayal Fund!
Application Instructions
Give to This Fund
Download Our Flyer to Learn More
Applications are now closed. 
Questions can be directed to Mikala Cox at mcox@accesscommunity.org.