Annual Reports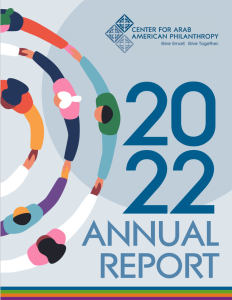 Prior year annual reports are archived below.
2021 Annual Report
2020 Annual Report
2019 Annual Report
2018 Annual Report
2017 Annual Report
2016 Annual Report
2015 Annual Report
2014 Annual Report
2013 Annual Report
2012 Annual Report
2011 Annual Report
2009-2010 Annual Report
A Tapestry of Giving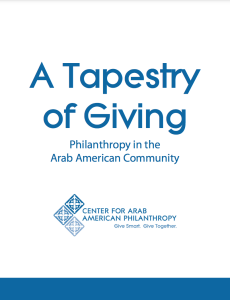 What inspires Arab Americans to give back to their community? What type of causes do Arab Americans care about? These are just a few questions we explore in our newly published research eport, a Tapestry of Giving, a report on Arab American philanthropy! Full report here.
___________________________________________________
The Center for Arab American Philanthropy (CAAP) publishes resources aimed at strengthening individual philanthropy, as well as providing seminal research on Arab American philanthropy and community needs. These resources include:
Recognizing our unique position in the Arab American community, CAAP regularly considers topics for investigation and research. All future publications will be available on this page.
Donors interested in supporting research on the Arab American community may consider giving to the Dr. Philip M. Kayal Fund for Arab American Research, which grants funds to social science researchers.
Additionally, CAAP has been featured in published work by partner organizations. Some of this work includes:
Diversity and Inclusion in Michigan Philanthropy: Voices of Arab American Donors by the Council of Michigan Foundations
Cultures of Giving: Energizing and Expanding Philanthropy by and for Communities of Color by the W.K. Kellogg Foundation
You can view our publications, and more publications related to diversity in philanthropy, at our partner site LearnPhilanthropy.