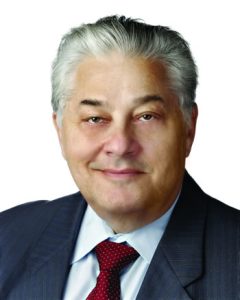 Category: Scholarships

Russell Ebeid's Legacy of Compassion Continues
More than 150 students awarded
scholarships since 2009
Russell J. Ebeid's spirit of kindness has uplifted the lives of thousands of people from underserved communities across the world. The successful businessman and deeply committed philanthropist built long-lasting projects that survived his time among us. A cause Russell held dear to his heart was accessibility of education, and he committed much of his philanthropy to empower students to move forward in their academic journeys.  
The Ebeid Family Fund Scholarship Program, housed at the Center for Arab American Philanthropy, has recently awarded financial support to over 30 students representing Engineering and Business majors/ disciplines across several college campuses in Michigan and Ohio. Since inception, the Ebeid Family Fund Scholarship Program has awarded 156 scholarships to students representing underserved communities, totaling $502,750.  
One of this year's awardees is Eboni Marcum, a student at Wayne State University in Detroit, Michigan.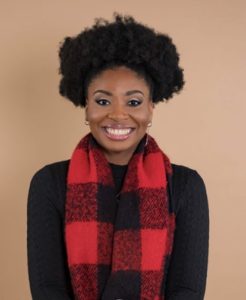 Similar to Russell, Eboni Marcum understands the challenges of college accessibility. "Growing up in state foster care, I couldn't even imagine myself ever receiving a degree," Eboni shares.  
Although faced with uncertainty, Eboni embraced her circumstances by nurturing her independence. She began to take action in securing a promising future for herself. She saved for college from a young age by creating a budget with the modest stipends she was given. "I started to think about my savings as an investment for my future," Eboni said. She quickly realized that money management was a passion she would like to pursue.  
Eboni eventually gained acceptance to Wayne State University, where she is realizing her dream of being an active student studying accounting and finance.  
Although Eboni has carved a path to a promising future, she is fully committed to paying it forward. Through her involvement with Wayne State's School of Social Work CHAMPS program, Eboni mentors and empowers other foster youth in their college-going journeys. She is involved in every step of the process for them, including filling out FAFSA applications and moving them into their college dorms.  
"Not everybody has a dad or mom cheering them on to get an education and be successful, so I hope to be that support for them," Eboni shares.  
Eboni hopes to take her career in accounting and finance to the stadiums and work for a major league team.  
Another recipient of the scholarship, Adam Abed, is a student at the University of Toledo studying Electrical Engineering and Computer Science Engineering.  
Adam always felt a gravitational pull to all things technology. In high school, he stumbled on the science book Soonish: Ten Emerging Technologies That'll Improve and/or Ruin Everything and could not get his eyes off the pages.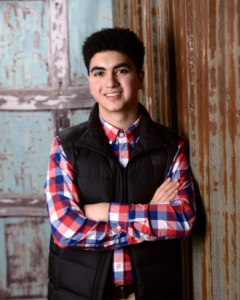 "I remember reading about programmable matter that may someday allow objects to perform multiple functions rather than one. I remember reading about brain-computer interfaces and the possibility that this technology has the capability to revolutionize the way cognitive diseases are treated, as well as being able to read thoughts in the brain." 
Like Russell Ebeid, Adam was raised by two immigrant parents who worked tirelessly to give him and his siblings a stable life. Facing displacement, his parents fled Palestine to come to the United States with little in their pockets.  
"Although they didn't have much, my parents were committed to being the best versions of themselves and encouraged their children to give back," Adam shares. He learned values of volunteerism and generosity from his family. The Abed family is heavily engaged with their local community, helping feed homeless populations at the First Apostolic Church in Toledo and teaching underserved students at a charter school.  
Adam hopes to one day combine his passion for technology, commitment to giving back and love for his heritage, and educate students in Palestine.  
These are just two examples of all the hard-working and driven students that have been awarded The Ebeid Family Fund Scholarships. See below for a full list of the awardees. 
To learn more about the Ebeid Family Fund visit here.
Adam Abed, Electrical and Computer Science Engineering, University of Toledo, '25 
Alexus Ford, Industrial Engineering, Kettering University, '22 
Ambyr Lantigua, Computer Science, Wayne State University, '23 
Ashley Wisdom, Chemical Engineering, Kettering University, '22 
Bailee Traver, Bioengineering, University of Toledo, '25 
Brandon Portillo, Civil Engineering, University of Toledo, '23 
Branigan Lyczkowski, Bioengineering, University of Toledo, '22 
Candace Ulett, Mechanical Engineering, Kettering University, '22 
Carlos Gonzalez, Marketing, University of Michigan-Dearborn, '25 
Chelsea Walters, Industrial Engineering, Kettering University, '24 
Chelsea Wright, Industrial Engineering and Statistics, Kettering University, '23 
Christin Salama, Mechanical Engineering, Wayne State University, '22 
Dimitri Douglas, Business/Finance, University of Michigan-Dearborn, '25 
Eboni Marcum, Accounting, Wayne State University, '23 
Ekram Suleiman, Mechanical Engineering, Kettering University, '21 
Ephraim Gibson, Industrial Engineering, Kettering University, '22
Grant Gergen, Mechanical Engineering, Kettering University, '25 
Hadi Elghoul, Business, University of Michigan-Dearborn, '25 
Hussein Cheaito, Software Engineering, University of Michigan-Dearborn, '24 
Jackson Nsengiyumva, Civil Engineering, University of Toledo, '22 
Jacob Balbaugh, Mechanical Engineering, University of Toledo, '25 
Justin Mendoza, Bioengineering, University of Toledo, '23 
Kimberly Betty, Mechanical Engineering, Kettering University, '24 
Lauren Bachman, Chemical Engineering, University of Toledo, '22 
Mina Khemmarath, Computer Science Engineering, University of Toledo, '24 
Mohamed Qasem, Computer Science and Cognitive Science, University of Michigan-Dearborn, '23 
Molouk Harp, Computer and Electrical Engineering, University of Michigan-Dearborn, '22 
Nicholas Wever, Mechanical Engineering, Kettering University, '22 
Nickolai Ashkar, Mechanical Engineering, Kettering University, '25 
Puskar Shahi, Mechanical Engineering, University of Toledo, '23 
Skyler Parker, Chemical Engineering, University of Toledo, '23 
Tanashki Frater, Industrial Engineering, University of Michigan-Dearborn, '22 
Victoria Martinez, Environmental Engineering, University of Toledo, '22 
Zane Bates, Bioengineering, University of Toledo, '24