Category: Youth Philanthropy
Recently, Ahmad Haidar-Ahmad—Teen Grantmaking Initiative (TGI) alumni member—saw 6 months of his hard work and determination come to a close; Ahmad was selected for the Mawby Internship with the Michigan Community Foundations Youth Project (MCFYP), a project of the Council of Michigan Foundations (CMF). His duties included planning and development of the annual Youth Grantmakers Summer Leadership Conference. CAAP recently had a chance to speak with Ahmad to learn more about his experience as a Mawby intern, the first intern with Arab ancestry to hold the position.
Ahmad has long had a passion for giving back and helping others. His time with TGI helped to further fuel Ahmad's passion for philanthropy, with Ahmad deciding to pursue a career in the field. It is through TGI that Ahmad discovered the Mawby internship with CMF, which is a stepping stone for many college students who plan to pursue a career in philanthropy.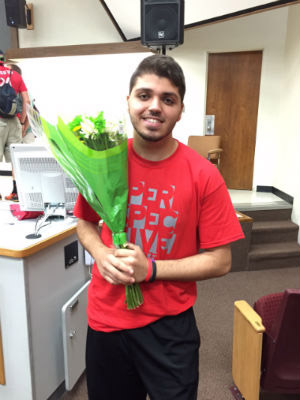 Ahmad's experiences as the Mawby intern were enlightening, as he was able to expand his understanding of philanthropy and youth work, while also developing crucial professional and life skills. While working with his conference committee, Ahmad was tasked with brainstorming ideas and helping to expand programming for youth to show YAC members that there are numerous opportunities once their time with their youth philanthropy group is done. Ahmad also helped to implement a theme that focused on diversity: perspective. This theme allowed for the attending youth to view different perspectives from various communities to help them gain a better understanding of diversity.
Ahmad immensely enjoyed working with the MCFYP committee and CMF, noting that the staff was very friendly and welcoming and stating that the team had natural chemistry, which led to excellent teamwork. Additionally, Ahmad was able to gain new perspectives of his own, as he visited various communities within Michigan.
More importantly, Ahmad says his time with CMF and at the leadership conference solidified his desired career path: working with youth in philanthropy. Ahmad is very motivated by the youth, referencing the large impact those at the leadership conference had on him; he genuinely believes that his "passion is fueled by these kids."
As a member of the Arab community, Ahmad believes that the Arab community, especially youth, have much untapped potential, and can make a huge impact if they dedicate themselves to a cause. Ahmad wants to help kids realize this potential and broaden their opportunities. Ultimately, Ahmad wants to represent his community on a higher scale, and to show the world that Arabs have much to contribute.
We at CAAP are extremely proud of Ahmad and wish him success in his future endeavors! To read about more Arabs giving back to their communities, visit our blog!