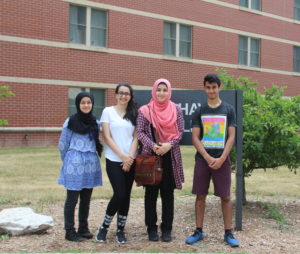 Category: Youth Philanthropy
Over the weekend of June 24-26, members of our Teen Grantmaking Initiative (TGI) had the incredible opportunity to attend the Michigan Council of Foundation's Youth Philanthropy (MCFYP) 2016 Youth Grantmakers Summer Leadership Conference at Central Michigan University. The conference saw the gathering of hundreds of youth philanthropists from the Midwest to share their experiences and grow as leaders. This year's theme, Find Your Voice, allowed the teens to truly learn just how impactful they can be and how much of a difference they can make. Our TGI youth had a great time and learned many valuable skills. Below is an account of their experiences at the youth conference:
Attending the CMF youth conference was an absolutely incredible opportunity. Through the conference, I was able to meet several people who share my passion for philanthropy. It was truly an eye opening experience that allowed me to recognize the impact that youth involvement has on the community. Some of the most influential discussions we had were about topics such as embracing diversity, finding our voices, and giving back to the community. Overall, the conference was extremely memorable and definitely enlightened me on the significance of being involved in organizations such as TGI." – Zahra S.

"This year's Youth Grantmakers Summer Leadership Conference at Central Michigan University was truly a memorable experience for me. Getting to know so many different people and discussing such paramount topics with other youth has made me view perspectives other than my own. Listening to captivating speeches and learning about the many components of philanthropy through fun activities only added to the unique experience.  Everyone was so friendly and we all seemed to understand each other. Social diversity was embraced and we all were there as enthusiastic philanthropists passionate about bringing change within our own communities. I met someone who knew how to say "thank you" in multiple languages and was surprised when he told me "shukria" in Urdu, the language I speak. Another friend took my friends and I bowling and we even ended up exchanging our Snapchats! Overall, this conference connected me with people outside of my circle, and made me realize that I can make an impact on the world. The conference helped me find my voice." – Fatima R.

"I had an amazing time at the Youth Philanthropy Conference! I learned many different things, ranging from various topics such as philanthropy, social justice, and diversity. It was very interesting seeing things through the perspective of others, and then discussing and hearing their own personal experiences. I learned so much and gained so many great experiences and skills. I'm very excited to bring forth all this to TGI next year!" – Zahra M.

"The CMF Youth Conference was helpful to me since it gathered a bunch of like minded youth philanthropists, which produced a lot of knowledge exchange in and of itself. I got to know how it's like in other youth philanthropy organizations and traded tips and experiences with youth philanthropists from all over Michigan. This kind of social way to learn from one another not only made the conference a learning experience but a really fun summer event. I really enjoyed attending and I'm glad I went to the CMF Youth Conference." – Ghassan A.
We are very proud of our TGI youth and hope they continue to be inspired by philanthropy and make a difference in their communities!