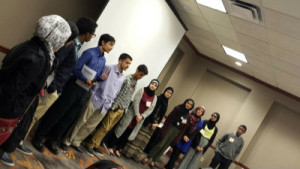 Category: Youth Philanthropy
From November 7-8th, the youth in our Teen Grantmaking Initiative (TGI) attended the Arab American Summit hosted by the National Network of Arab American Communities (NNAAC). The Arab American Summit is a two-day convening of leaders, advocates, students and allies from across the country as they honor the work that has been done to build community strength, as well as work together towards the advancement of an agenda that advocates for social justice and community change.
The theme for this year was From Marginalized to Organized and featured forums and discussions on civil rights for Arab and Muslim Americans; refugee issues and services; advocacy and activism; nonprofit management; and leadership development.
TGI members attended the youth track of the conference, where they took part in discussions and forums focused on youth leadership development and encouraged them to become agents of change in their communities.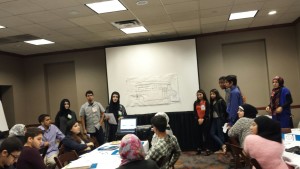 Photo of a youth session at the Arab American Summit
It was an incredible experience for the youth. TGI was able to bring in members from our chapters across the nation, such as San Diego, which allowed a chance for members to get better acquainted with one another. TGI members especially enjoyed facilitating a discussion on the role of youth in philanthropy. Another memorable aspect of the Summit was meeting several other youth from across the country that share similar interests. One TGI member, Saba, says the conference was unforgettable. The Summit helped Saba realize her leadership potential, and she looks forward to guiding the newer TGI members in all our activities this year.
We're extremely proud of the youth in our TGI program for taking a leadership role in facilitating an important discussion and for doing so with poise and professionalism. Congrats to everyone who worked so hard on the Summit – it really shows!