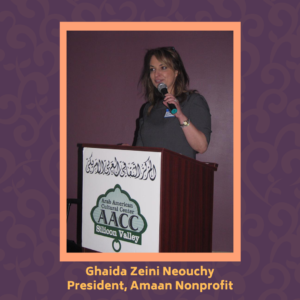 Category: Arab American Giving
"Because of my upbringing, I related a lot to what the Syrians were going through. A lot of grace came my way so I wanted to do something similar."
Ghaida Zeini Neouchy immigrated to the Bay Area at the age of 19 from Lebanon, leaving a country still in the midst of a civil war.
She went on to study computer science at San Jose State University and worked her way up to Senior positions at HP. Currently, she works as a senior director of product management at Cisco.
In 2015, when the Syrian refugee crisis hit its highest numbers, and many refugees began relocating to the San Francisco Bay Area, Neouchy and a group of dedicated Levantine women teamed up to form a nonprofit in response. By December 2016, Amaan was launched with the intention of providing support to refugees in three main areas: vocation, transportation and essential resources (food and housing). In 2019, Neouchy became the president.
"We really wanted to create a systemic approach to how we helped with the refugee crisis. The most important part was when Syrian refugees were coming, programs that already existed were able to help the refugees for 6 months at most. After that they are on their own. While that is good, 3-6 months is not enough help for people who don't know how to speak English and how this country works," Neouchy said. "So the vision for Amaan was to help them achieve their full potential. We didn't want them to get stuck in the vicious cycle of just giving them money and food. We wanted to give them an education. We wanted to give them employment so we really wanted to achieve the most they can get from the self-actualization perspective."
Amaan addresses those needs by providing a center in which Arabic-speaking volunteers can assist refugees with starting their small business, applying for a driver's license and even financing a car or home. It also gives a space for refugees coming from the Middle East to create a community away from home.
"You can bring people, give them jobs and help them assimilate but the most important thing is, especially in terms of Syrian refugees, they are used to having a large community around them. The cultural and social aspects are huge. Being able to feel like they have a community around them that is supportive and safe was also really important for us to provide. We have done this through Ramadan iftars and lunches where the refugees did a potluck to create that community environment."
However, the novel coronavirus has shifted the way of Amaan's day-to-day services. Neouchy says the financial struggles many refugee families are facing as a result of job loss changes the services they are looking for. Now Amaan volunteers help clients understand the new policies in effect, like the relaxation on rent, and provide direct financial support.
"My favorite activity Amaan does is packing boxes of food for Ramadan, a tradition for Amaan. Every Ramadan we do a food donation and then pack it into boxes with necessities the Amaan families would need for Ramadan. Each box would have about $100 worth of stuff, since we buy in bulk. But if this
family was to buy it themselves it would cost around $250. This would've been our fourth year. But because of the shelter-in-place we were not going to ask people to come in. We thought it would be too risky to bring people into the community center, even if it was just the board members. So we decided to switch to cash donations, by donating visa gift cards or grocery store gift cards."
Amaan continues to raise donations and work with families very closely to help find solutions.
"At the end of the day, even after you achieve a lot, you still feel like there is a gap… in regards to the refugees I related a lot, especially to the young adults and kids. I wanted them to get full advantage of the system because no matter what, if you have potential and aspirations, the sky's the limit for you. And that is one of the things I wanted to communicate to anyone who comes to this country."
Jana Kadah, Community Organizer and Guest Writer