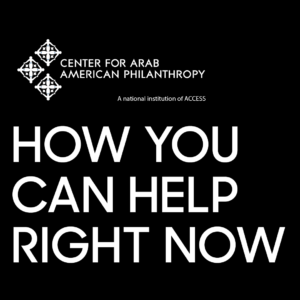 Category: Resources
As a community foundation dedicated to improving communities and reshaping perceptions, the Center for Arab American Philanthropy advocates for a just and equitable society for all, especially for the Black community. It is a stance we take in favor of humanity, in favor of a society that includes the equal participation of each and every individual. We aim to use our platform to elevate the voices of the individuals, communities and organizations already doing this necessary work. Below, we've compiled a list of suggestions for you to take action as a philanthropic professional. 
Fund Black- and brown-led organizations.

A non-exhaustive list of nonprofits

you can donate to today is available below

.

 

Educate yourself on the role of philanthropy in social movements. 

See below for a list of articles.

 

Educate yourself

 

on the issues of racial justice.

 Consider

 reading

 books on learning to be anti-

racist

, and

 watching films that uplift Black voices and stories.

See below for some recommendations.

 

Use your platform to influence and educate others.

 

Listen. Listen with 

empathy. Listen to 

take action

. Listen to make a difference.
Nonprofits to support during this time: 
Local: 
Detroit Justice Center, https://www.detroitjustice.org/ 
"The Detroit Justice Center (DJC) is a non-profit law firm working alongside communities to create economic opportunities, transform the justice system, and promote equitable and just cities." 
 Black Lives Matter Detroit, https://www.blmdetroit.com/ 
"BLMDetroit fights for Black liberation, using mass media and educational programming to foster an ever-evolving ecosystem based upon the equitable representation and centering of all identities within the African diaspora." 
Ruth Ellis Center, https://www.ruthelliscenter.org/ 
"Founded in 1999, Ruth Ellis Center (REC) has established a national reputation for quality and innovation in providing trauma-informed services for lesbian, gay, bi-attractional, transgender and questioning (LGBTQ+) youth, and young adults, with an emphasis on young people of color, experiencing homelessness, involved in the child welfare system, and/or experiencing barriers to health and wellbeing." 
Auntie Na's House, http://www.auntienashouse.org/ 
"This community outreach center provides a place of support and survival for those who are left unprotected by traditional government or non-profit social services. Auntie Na's outreach program primarily supports low-income families, but also works with people with developmental disabilities, those recovering from drug addiction, and those surviving domestic violence." 
Shakespeare in Detroit, https://www.shakespeareindetroit.com/ 
"Shakespeare in Detroit is a nonprofit organization that enhances and supports the cultural, educational and financial growth of Detroit with professional theatre created through a conscious lens of equity, diversity and inclusion." 
Detroit Phoenix Center, http://www.detroitphoenixcenter.org/ 
"Detroit Phoenix Center exists to improve the outcomes for youth and young adults ages 13-24 who are at risk of or currently experiencing homelessness. The Detroit Phoenix Center exists to empower youth who are at-risk or currently experiencing homelessness with the resources needed to improve health, wellness, and self-sufficiency." 
COTS, http://www.cotsdetroit.org/ 
"COTS exists to alleviate homelessness by providing an array of services that enable people to achieve self-sufficiency and obtain quality affordable housing. COTS also exists to advocate for long-term solutions to the problems of homelessness. COTS creates opportunities for families to collaborate, thrive, and succeed in building strong and stable households, neighborhoods, and communities." 
The Charles H. Wright Museum of African American History, https://www.thewright.org/ 
"The Charles H. Wright Museum of African American History opens minds and changes lives through the exploration and celebration of African American history and culture. For over half a century, the Charles H. Wright Museum of African American History has dedicated itself to exploring and celebrating the rich cultural legacy of African Americans." 
National: 
Black Lives Matter, https://blacklivesmatter.com/ 
"#BlackLivesMatter was founded in 2013 in response to the acquittal of Trayvon Martin's murderer. Black Lives Matter Foundation, Inc. is a global organization in the US, UK, and Canada, whose mission is to eradicate white supremacy and build local power to intervene in violence inflicted on Black communities by the state and vigilantes." 
Movement for Black Lives, https://m4bl.org/ 
"The Movement for Black Lives (M4BL) formed in December of 2014, was created as a space for Black organizations across the country to debate and discuss the current political conditions, develop shared assessments of what political interventions were necessary in order to achieve key policy, cultural and political wins, convene organizational leadership in order to debate and co-create a shared movement wide strategy. Under the fundamental idea that we can achieve more together than we can separately." 
NAACP, https://www.naacp.org/  
"The mission of the National Association for the Advancement of Colored People (NAACP) is to secure the political, educational, social, and economic equality of rights in order to eliminate race-based discrimination and ensure the health and well-being of all persons." 
Black Girl Ventures, https://www.blackgirlventures.org/ 
"Black Girl Ventures (BGV) is a culturally converging ecosystem igniting economic security, civic engagement, and hyperlocal infrastructure at the intersection of STEM education and entrepreneurship for Black and Brown woman-identifying founders, funders, and veterans. Our mission is to provide Black/Brown woman-identifying founders with access to community, education, and leadership development in order to meet business milestones that lead to economic advancement through entrepreneurship." 
Black Youth Project 100, https://www.byp100.org/ 
"BYP100 is a National, member-based organization of Black 18-35 year old activists and organizers, dedicated to creating justice and freedom for all Black people. We do this through building a network focused on transformative leadership development, direct action organizing, advocacy, and political education using a Black queer feminist lens." 
Yes on Measure R, https://voteyesonr.org/ 
"Measure R grows out of a decade of organizing to stop Sheriff violence and abuse in the jails. Last year, with the help of Jasmyne Cannick, our campaign collected a quarter million signatures to put Measure R on the ballot. It's the first time in LA's history that the people have taken criminal justice reform to the ballot box (and only the second citizen's initiative in LA County history). Measure R is founded and Chaired by Patrisse Cullors, co-founder of Black Lives Matter." 
Center for Black Equity, https://centerforblackequity.org/ 
"Our Mission is to promote a multinational LGBTQ+ network dedicated to improving health and wellness opportunities, economic empowerment, and equal rights while promoting individual and collective work, responsibility, and self-determination. Our Vision is to build a global network of LGBTQ+ individuals, allies, community-based organizations and Prides dedicated to achieving equality and social justice for Black LGBTQ+ communities through Economic Equity, Health Equity, and Social Equity." 
 African American Leadership Forum, http://www.tcaalf.com/ 
"The African American Leadership Forum (AALF) is comprised of over 1,500 African Americans who self-identify as Thought Leaders, Influencers, Builders, Ambassadors. Collaboratively, these leaders volunteer their time, talents and treasure to support our mission to build a just society that works well for everyone." 
Black Girls Code, https://www.blackgirlscode.com/ 
"Black Girls CODE is devoted to showing the world that black girls can code, and do so much more. By reaching out to the community through workshops and after school programs, Black Girls CODE introduces computer coding lessons to young girls from underrepresented communities in programming languages such as Scratch or Ruby on Rails."
Black Male Voter Project, https://blackmalevoterproject.org/
"Since the foundation of the United States, black men and women have faced barrier after barrier to achieving voting equality. These barriers continue today in the form of Voter ID laws and racial gerrymandering. Black women have the highest rate of electoral participation in the United States. Our goal is to elevate black men to the same level of participation."  
Black Organizing for Leadership and DIgnity, https://boldorganizing.org/ 
"BOLD (Black Organizing for Leadership and Dignity) is a national training intermediary focused on transforming the practice of Black organizers in the US to increase their alignment, impact and sustainability to win progressive change. BOLD carries out its mission through training programs, coaching and technical assistance for BOLD alumni and partners."  
Black Women for Wellness, https://www.bwwla.org/ 
"Black Women for Wellness believes in the strength and wisdom of our community and allies. We believe that we have the solutions, resources and responsibility to create the shifts and change needed to impact our health status." 
National Black Justice Coalition, http://nbjc.org/ 
"The National Black Justice Coalition (NBJC) is a civil rights organization dedicated to the empowerment of Black lesbian, gay, bisexual, transgender, queer and same gender loving (LGBTQ/SGL) people, including people living with HIV/AIDS. NBJC's mission is to end racism, homophobia, and LGBTQ/SGL bias and stigma." 
National Black Women's Justice Institute, https://www.nbwji.org/ 
"The National Black Women's Justice Institute (NBWJI) works to reduce racial and gender disparities across the justice continuum affecting Black women, girls, and their families, by conducting research, providing technical assistance, engaging in public education, promoting civic engagement, and advocating for informed and effective policies." 
National Congress of Black Women, https://www.nationalcongressbw.org/ 
"The National Congress of Black Women, Inc. (NCBW) serves as a nonpartisan voice of advocacy on issues affecting the appointment of women at all levels of government with a goal to increase participation of women of color in the educational, political, economic, and social arenas." 
Articles on the Role of Philanthropy in Social Movements: 
Entering the Funding Arena: https://www.alliancemagazine.org/feature/entering-the-funding-arena/ 
Philanthropy as a Force of Social Change: https://www.learningtogive.org/resources/philanthropy-force-social-change  
Social Movements and Philanthropy: How Foundations Can Support Movement Building: https://scholarworks.gvsu.edu/cgi/viewcontent.cgi?article=1094&context=tfr  
Books to Read:
So

 You Want to Talk About Race

, Ijeoma 

Oluo

 

How to Be 

An

 Anti-Racist

, 

Ibram

 X. Kendi

 

 

Me and White Supremacy: Combat Racism, Change the World, and Become a Good Ancestor

, 

Layla F. Saad

 

A People's History of the United States

, Howard Zinn

 

Between the World and Me

, Ta-Nehisi Coates

 

Beloved

, Toni Morrison

 

I Know Why the Caged Bird Sings

, Maya Angelou

 

Half of a Yellow Sun

, Chimamanda Ngozi Adichie

 

Becoming

, Michelle Obama

 
Film and Media to Watch: 
Explained: The Racial Wealth Gap

 

When They See Us

 

The 

13

th

 

If Beale Street Could Talk

 

Selma

 

Reconstruction: American After the Civil War

 

Teach Us All

 

What Happened Miss Simone?

 
Find more Black empowerment media here: https://octaneseating.com/blog/black-lives-matter-media/