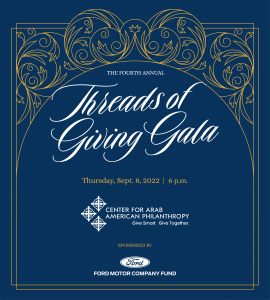 Category: Arab American Culture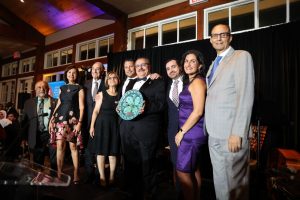 The Center for Arab American Philanthropy (CAAP), the nation's only Arab American community foundation, held its fourth annual Threads of Giving Gala at the Loeb Boathouse Central Park on Thursday, September 8, 2022, to honor the incredible philanthropic contributions of New York City native, successful businessman and proud Arab American, George Jalinos. 
At this year's fourth annual Threads of Giving Gala, CAAP shared and uplifted Jalinos' impact on causes he's been dedicated to for decades by awarding him the Outstanding Arab American Philanthropist of the Year. Attendees were reminded of Jalinos' commitment to spotlighting the Arab American story through his support for the Arab American National Museum and its well-known Little Syria exhibit, which showcases the story of a historical Arab enclave in Brooklyn that attracted many newcomers.  
Jalinos' philanthropy has also secured relief for vulnerable communities. His work with a New York-based Arab American committee, affiliated with St. Jude Children's Research Hospital, has helped raise $1.5 million for children battling cancer.  Jalinos' philanthropy also includes building bridges between professionals in the U.S. and the Middle East through his commitment to the Arab American Bankers Association of North America (ABANA), mobilizing other Arab Americans to give back through the Salaam Club of New York, and providing care to elderly communities through his longtime commitment to the St. Nicholas Home for the Aged.  
"George Jalinos beautifully demonstrates the generosity of the Arab American community and the positive impact our community makes, particularly when we give collectively," said Tamara El-Khoury, CAAP's Director. "I find inspiration in philanthropists like George Jalinos, who builds bridges and invites others to join in giving to causes that improve the lives of others." 
At the event, many of the 260 attendees were introduced to the national work of CAAP, which has hosted previous galas in Houston, Boston and Cleveland. CAAP is committed to uniting the national Arab American community by demonstrating the impact of giving collectively. CAAP's mission includes improving communities through grantmaking, serving donors by providing smart giving tools and shaping perceptions about Arab Americans by highlighting their exceptional contributions to the nation and the world. 
During the award presentation, George was introduced by his two sons Victor and Matthew Jalinos, who also call New York home. This year's Threads of Giving Gala was emceed by Ambassador Edward Gabriel, President and CEO of American Task on Lebanon and former U.S. Ambassador to the Kingdom of Morocco. The evening also included a stunning classical Arabic musical program by the New York Arabic Orchestra.