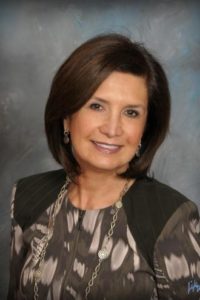 Category: Leadership Updates
The Center for Arab American Philanthropy, a national institution of ACCESS, begins a new chapter with a new advisory board chair. The national community foundation, which has granted more than $10 million to causes around the world since 2010 has appointed Rasha Demashkieh as advisory board chair. Her appointment comes after ten years of leadership of outgoing chair Hussien Shousher. 
"I have over the years greatly enjoyed working with Rasha and can promise you she is an extremely capable leader. I look forward to seeing her lead the Center for Arab American Philanthropy into a more successful organization," says outgoing chair Hussien Y. Shousher. During Hussien's time as board chair, CAAP has evolved from housing only four funds to housing 147 funds.  
Rasha has been a CAAP advisory board member since 2012, helping the institution empower the Arab American community by centralizing and strengthening collective giving. She is admired for spearheading ambitious projects such as one of CAAP's most successful and well-attended fundraisers, 100 Arab American Women Who Care.
Philanthropy connects Rasha to a greater mission of creating understanding and appreciation for Arab American heritage, culture, and contributions, "After 9/11, Arab Americans were heavily targeted, feared and misrepresented. I made it a point to change the way people saw Arab Americans by attaching my identity to everything I do, even when giving to causes that are not affecting the Arab American community." Rasha and her husband have generously established the Walid and Rasha Demashkieh Endowed Fund at CAAP, which will leave a legacy of their philanthropy for generations to come.  
"Rasha exemplifies every quality that is needed to succeed as advisory board chair. She's a visionary who sees infinite possibilities in the work that we do. She's knowledgeable about the ever-evolving philanthropic world. Most importantly, she believes in CAAP and its mission to secure visibility and recognition for the Arab American community. It's for these reasons I think she will be very successful in her new position," said Maha Freij, Executive Director of CAAP.  
Rasha has served on many boards and committees, including the St. Clair Community Foundation, NAAMA and as ACCESS board president from 2016-2019. She was elected as a trustee of the Port Huron Area School District Board of Education in 2003 and served for 13 years. Rasha was appointed by Governor Snyder to the Civil Rights Commission in December 2011 and was reappointed in 2015. During her time on the Commission, she participated in hearings that resulted in remarkable reports such as Flint Water Crisis: Systemic Racism Through the Lens of Flint and more recently produced a report Education Equity in Michigan dealing with the intersection of race and education. Rasha works at CVS Health in Port Huron, where she and her husband, a retired physician, reside. They have three daughters and five grandchildren.