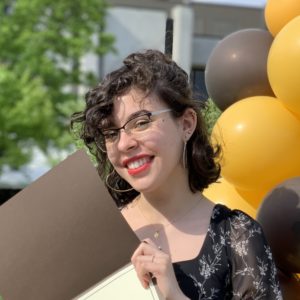 Category: Arab American Culture
For Nadine El Maalem, her cultural identity is something she continues to learn about and uncover. The Kayal Scholarship for Arab American Students in the Social Sciences, housed at the Center for Arab American Philanthropy, has empowered her to continue this life-long journey. 
What do you study? 
I am a proud student of the social sciences at Rowan University with dual majors in Communication Studies and Modern Languages & Linguistics, and concentrations in Arabic and French.
What inspired you to study your major? 
As the daughter of Moroccan immigrants, we were the only Arab family living in my hometown during heightened xenophobia and a lack of representation of Arab voices in popular culture. This made me very disconnected from my identity as an Arab-American throughout my childhood. It wasn't until my senior year of high school that I started exploring my cultural heritage and expanding upon my Arabic language knowledge. This inspired me to want to study  Arabic Studies programs in the social sciences.
I chose these programs because of my Fall 2019 semester abroad in Morocco, where I engaged with my heritage and experienced living in the MENA region first-hand while studying the Arabic language and culture. I now plan to return to Morocco during the upcoming academic year to study, volunteer and explore my culture again.
What are your career aspirations? 
I want to work for NGOs in Morocco to promote human rights and educational opportunities for students, especially girls and women. Another option would be to work with international program providers, such as International Studies Abroad (ISA) or World Learning, to facilitate academic programs for study abroad, particularly focusing upon those in the MENA region.
Why did you apply to this scholarship? 
Being supported by the The Kayal Scholarship for Arab American Students in the Social Sciences has a tremendous impact on me as I prepare to spend my final year at Rowan University studying abroad in Morocco. There, I will complete my major while participating in service-learning projects in my host community of Meknes. This scholarship empowers me to continue to embrace my cultural heritage during my upcoming program abroad and, subsequently, in my future endeavors as well.
The Kayal Scholarship for Arab American Students in the Social Sciences supports exceptionally driven and talented first or second generation Arab American/MENA students studying a social science, with preference to students being the first in their family to attend college. Learn more here.