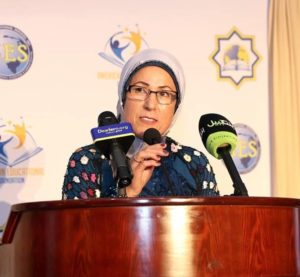 Category: Arab Americans Who Care
I originally come from a humble family. I've always been known to care about others, not about myself. I felt a responsibility to my community and felt that I had the talent, I had the preparation, and who else would do it if I didn't take the lead? I really enjoy seeing when I'm making a difference. It is about giving back to the community. Seeing the contribution that I made to society is really the main reason why I initiated the process of starting my own schools.
Nawal Hamadeh is an educator, active community member, business interpreter, mother, wife, sister, friend, colleague and a team player. But if you ask her, she would say she is a public servant more than anything else. Originally from Lebanon, she came to the United States as a teenager to attend college. She initially studied pre-law and received her bachelor's degree from the University of Detroit Mercy, but then realized her passion and innate skills for teaching while traveling and taking care of her children. She decided to pursue that passion and earned a master's degree in educational leadership and her secondary teacher certification from Eastern Michigan University. She plans to eventually finish her doctorate at Northern Central University. Mrs. Hamadeh is the founding President and CEO of Hamadeh Educational Services (HES), and Superintendent of Star International Academy. She has served as public and private school educator in the U.S. and abroad for more than 30 years.
Inspired by giving back to the community, Mrs. Hamadeh recognizes her role and responsibility as an educator and mother. She started her own school because she had the means to do so and saw the need. Between being a mother and attending ESL (English as a second language) courses, Mrs. Hamadeh learned she had a passion for teaching. During that process, she noticed there was a need that hadn't been met. She saw a diversity of needs and the demand for ESL courses, teaching the Arabic language, the high ratio of children with special needs and the high rate of socioeconomic challenges families face. She wanted to address those needs with HES. The schools enroll many immigrants and refugees from all over the world, too. Mrs. Hamadeh wants to empower children to be successful, to become independent decision-makers and independent learners. The school was such a success that HES expanded to Detroit, Dearborn, Dearborn Heights, Westland and Sterling Heights. Mrs. Hamadeh has touched the hearts of many, and the demand for her schooling reflects the needs of those students and parents. Mrs. Hamadeh also created a scholarship for graduating seniors in 2004 for college needs. 
Coming from humble beginnings, Mrs. Hamadeh has seen her family go through hardships and succeed in society. She says her parents taught her to be kind to others and help those in need. It wasn't until Mrs. Hamadeh created HES that she considered herself a philanthropist. At the core, she's always been about giving back to the community in some capacity and making a difference within that community. She says most of the philanthropy that she does isn't on record — whether it be helping a new student adapt or giving families money in times of need. 
If Mrs. Hamadeh has any advice to other Arab Americans, it's to give and never look back. She believes in the power of community — uplifting each other because there's a responsibility to do so. She believes what we do represents who we are.