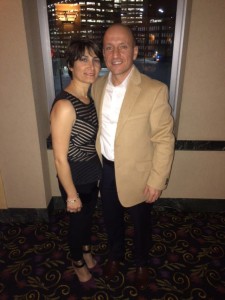 Category: Arab American Giving
Since she was young, philanthropy has always played a huge part in her life, being raised by parents who were active philanthropists. A financial expert and accountant in the automotive industry, Hiba Yazbeck, along with husband Chady Webhe, has spent much of her life giving back to others. We recently spoke with Hiba Yazbeck to learn more about her philanthropic pursuits, and how her CAAP donor-advised fund has strengthened her giving.
CAAP: Can you give us an example of the kind of work and causes you support? And what do you look for when making giving decisions?
Hiba Yazbeck: Some of the organizations that my husband and I support, and have supported for many years, include St. Jude Children's Research Hospital, the Lebanese American University and Teach for Lebanon. We tend to give to organizations that facilitate cancer treatment and partake in cancer research, as well as educational facilities and programs.
CAAP: What, or who, are your giving inspirations? Were there family members or friends that inspired you?
HY: Definitely my parents, my grandparents and some of my friends! My parents donated often when I was  growing up, so I guess you could say I was raised and encouraged to do good things like give back to the community. A few of the causes my parents supported supplied aid for orphans in Lebanon, as well as for organizations promoting healthcare. In addition to my admirable parents, some of our friends prioritize giving back to others by supporting worthy causes; Manal and Ghassan Saab are very active donors as well as good friends. Of course, they do work very closely with CAAP. Thankfully, I've always been surrounded by such charitable people and giving environments, and I hope to continue to be inspired by such people and inspire others myself.
CAAP: What does the word "philanthropist" mean to you?
HY: Many assume "philanthropists" are defined by the numbers they bring in, their donations, the end results rather than the real effort required to genuinely contribute to others. To me, philanthropy is a way of life. Despite what people may think, it does not have to be about big numbers; I suggest giving what you can afford. The act of philanthropy is also about being strategic in your giving, so that means supporting a few causes in order to ensure a greater impact rather than spreading your impact thin by supporting too many.
CAAP: What do you see as your biggest achievement in your giving history?
HY: It's really difficult to only pick one standout effort, but I would have to say my active work with St. Jude Children's Research Hospital is what makes me especially proud. Since 2008, when I started raising money for St. Jude, I've been able to raise more than $50,000. In addition to St. Jude, my husband and I do plenty of fundraising for education; we've even created an endowment for education. Besides particular efforts in fundraising, something I ultimately try to do is connecting people and explaining the benefits of giving back, so as to encourage more people to desire and perform charitable work.
CAAP: How has CAAP strengthened your impact in giving? And what are some benefits you have received by having a fund at CAAP?
HY: CAAP has helped my husband and me in so many ways. It taught us how to leverage our impact when it comes to giving, which has caused us to be more strategic. Before joining CAAP, we would naively give to whoever called us asking for a donation, which wasn't very strategic, or even effective. Now, we are definitely more organized and strategic thanks to CAAP.
CAAP: Do you identify as Arab American? Does this influence your giving?
HY: Yes, I'm Lebanese American. And, I wouldn't necessarily say it influences my giving, but I do see how it affects other Arab Americans when it comes to giving. Many people give, but they don't necessarily give to organizations and are far from organized. Much of their donations are personal donations to either friends or individuals rather than to large organizations. I think a lot of this "giving" behavior has to do with a general distrust of these organizations amongst this population. I really think CAAP would help in environments like these, as CAAP helps people to be more organized in their giving, as well as providing that sense of trust in giving.
CAAP: Do you have any advice for other Arab Americans new to philanthropy and giving?
HY: Collectively give back to make a bigger impact! Every penny counts and donations don't have to be large amounts. Be creative and join other people's efforts! There are many opportunities available to give back and raise awareness about the positives of philanthropy, such as open houses, creating an endowment, and using matching programs.
Thank you so much for taking the time to talk with us, Hiba! We appreciate the work you do and hope you and your husband continue to share your love and compassion with others. Read about more Arab Americans Who Care.