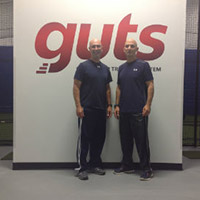 Category: Arab American Culture
Physical fitness has many benefits, including strong mental and psychological benefits. Brothers Paul and Todd Turner, the founders of GUTS (Ground Up Training System), hope to help individuals with special needs develop healthy fitness habits through their unique physical fitness and training program.  CAAP recently visited the brand new GUTS facility in Ferndale, MI, to learn more about their mission and vision.
The grandchildren of Lebanese immigrants, Paul and Todd Turner have extensive backgrounds in athletics and physical fitness, as athleticism played an important role in their early lives. Growing up, Paul remembers his grandfather and his love for baseball; he recalls his grandfather would listen to games broadcast on the radio. Their family's interests were very sports-oriented; they even organized vacations around certain sports schedules. Paul and Todd's love and dedication to athletics carried on throughout their life, eventually transforming into a desire to share their passion with others to improve lives.
The decision to concentrate on individuals with special needs was inspired by Todd's 6 year-old daughter, Amarissa, who was born with Down's syndrome and was later diagnosed with autism. Paul and Todd noticed there were very limited physical fitness options available for individuals with special needs; in fact, since GUTS' inception, GUTS began receiving calls of interest from parents from all over the place (as far as Louisiana!), which further illustrates the lack of support for the physical wellness of individuals with special needs (while also showing there is clear interest and support for these services). In Oakland County, Michigan, there are an estimated 20,000 families with special needs children of school age. GUTS is a training center with the objective being to improve one's quality of life, and is designed for everyone, but is especially geared towards middle-school age kids.
By planning to serve the "individual first, disability last," Team GUTS hopes to provide innovative programming including dance classes, Zumba, soccer and personal training among other activities. Paul and Todd are proud of their Arab American identity, and believe that there is much untapped potential in the Arab American community. Paul believes that by working together we "could move mountains."
As for Todd's daughter, Amarissa? Todd says she has shown an interest in climbing and Zumba, being particularly attracted to the upbeat music.
All of us at CAAP wish GUTS the best of luck in their future endeavors! GUTS was recently in the running for a $10,000 grant from Kind Snacks for their Kind Causes Initiative, which will only help them to achieve their mission. To learn more and express your support, click here. For more Arab Americans Who Care, read our blog.