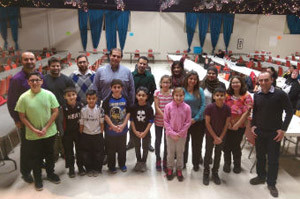 Category: Youth Philanthropy
COOK COUNTY – The Chicago Palestine Film Festival (CPFF) and Arab American Family Services (AAFS), in partnership with Big Brothers Big Sisters of Metropolitan Chicago, seek mentors and mentees to participate in their Arab American Mentoring program this October.
The program officially kicked off in October 2014, in the Bridgeview neighborhood of Chicago, supporting 11 mentor-mentee matches. Arab American Family Services recruited youth within the community through informational sessions. Itedal Shalabi, Co-Founder & Co-Director of Arab American Family Services said, "These sessions were crucial in educating parents about the program and getting them to buy into the positive effects this would have on their child."
"While we saw the definite need to support Arab-American youth in the Southwest suburbs, we found few Arab American mentoring programs throughout the country that focused on youth identity and future success," said Noha El Shareif, Advisory Board Member of the Chicago Palestine Film Festival. "Therefore, we decided to build a new mentoring program with the 'For Us, By Us' concept. We've created an opportunity for Arab Americans to pay it forward and be part of the process to shape our youth." she added.
"Arab Americans alone understand the needs of our community. Our goal was to create a mentoring program that would match our youth with Arab American mentors to give them an opportunity to learn more about their heritage and culture while guiding them on a path to success in life," said Nareman Taha, Co-Founder & Co-Director of Arab American Family Services.
Mentors and mentees will work together on activities that focus on academic and social-skill improvement while integrating topics of identity that help Arab American youth feel secure in their culture. "When the program ended its first year in June 2015, 100% of youth reported feeling close to their mentor and 100% of the mentors reported that their mentees improved their self-confidence. This program has become an ideal example of how progressive nonprofit organizations can successfully collaborate to build impactful outcome based programs," said Art Mollenhauer, CEO of Big Brothers Big Sisters, "This has become the first ever relationship of its kind between Big Brothers Big Sisters and the Arab American community."
Based on the success the program has been enjoying, the plan is to take the program to select nationwide cities next year.
To volunteer as a mentor and for more information visit www.arabamericanmentoring.org or contact Erika Corona-Owens of Big Brothers Big Sisters at 312-207-5622. Donations to support the program can be sent to Arab American Family Services www.arabamericanfamilyservices.org, 9044 S Octavia Ave, Bridgeview, IL 60455 attn:  the Arab American Mentoring Program.