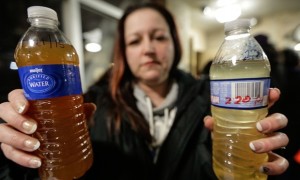 Category: Arab American Culture
The city of Flint, Michigan is facing an extreme crisis, as their drinking water has been contaminated with toxic amounts of lead, rendering it extremely dangerous and unsafe and leaving thousands of families and individuals without clean water. CAAP is responding to the crisis by recommending groups that are working to help the people of Flint as they deal with this unfortunate disaster.
Catholic Charities of Shiawassee and Genesee Counties: Catholic Charities is responding to the crisis by providing help through its Center for Hope Community Closet in Flint. This allows for families and individuals in need to take home clean bottled water. They are also accepting donations of gallons of water, water filter kits and replacement kits, or monetary donations. The Center is open Monday through Friday from 9:30 am to 4 pm. For more information, please follow this link.
The United Way of Genesee County: United Way has set up a fund for the purchase of filters, bottled water, emergency support services and prevention efforts. To date, United Way of Genesee County has provided more than 11,000 filter systems and 5,000 replacement filters, and ongoing sources of bottled water to the Food Bank of Eastern Michigan. For more information on how you can help, click here.
Flint Child Health & Development Fund: The Flint Child Health & Development Fund at the Community Foundation of Greater Flint supports the delivery of critical public health, medical, and community-based services that address the short and long term impacts of those exposed to lead as a result of the water crisis. This fund, spearheaded by Arab-American Dr. Mona Hanna-Attisha, supports organizations that provide aid to children and families to support positive health outcomes. For more information, follow this link.
Flint Water Disaster: The community has also come together to provide help in anyway they can. This Facebook page was set up by volunteers from the Flint community to provide important updates regarding the crisis. They post important volunteer opportunities as well as updates regarding the overall crisis and how it is being handled by the government. Visit the page here to learn more.