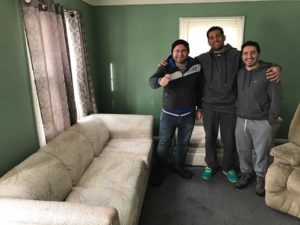 Category: Arab American Giving
Imagine being forced to leave your home and flee your country for your and your family's safety. Imagine coming to a country with very little in terms of personal possessions, with limited support to assist you as you attempt to rebuild your life in a foreign land. Such is the reality of Syrian refugees forced to flee their homes to escape the ongoing civil war in Syria. The Center for Arab American Philanthropy (CAAP) recently launched a new fund, the Building Blocks for New Americans Fund, to help Syrian refugee families as they make the transition to a new home in the United States, with the goal of providing assistance in any form necessary as they attempt to rebuild their lives.
Last month, I was part of an effort to deliver furniture to 5 Syrian refugee families currently residing in Detroit and Dearborn, several of which are recipients of the Building Blocks for New Americans Fund. Having come from war-torn Syria with few possessions, these families were placed in homes with very little furniture, with some having none whatsoever. Thanks to the generosity of a local donor, we were able to deliver numerous furniture items to these families, such as couches, beds, dining room tables, and dressers, to help make their new homes feel like "home"!
The experience was truly enlightening and enriching, as it caused me to reflect and appreciate the privilege I've been fortunate enough to experience throughout my life. Seeing how happy these families were as we delivered the furniture allowed me to see the value in the small things in life. Young children were running around with joy at the sight of new tables and chairs, and another family couldn't contain their smiles when we completely filled their empty living room with couches and tables. Never would I have ever attributed such great value to something such as a simple couch because I've been lucky enough to never have to experience life without items typically regarded as basic requirements in most households. This is the unfortunate reality for these Syrian refugee families, not just in Michigan, but all over the world, as they are forced to pick up their lives and rebuild elsewhere.
Knowing the hardships these families have been through made it especially rewarding to provide them with the basic necessities to help them transition into their new lives. I know this is just one step in a long process at rebuilding and returning to some sense of normalcy for these families, but being able to provide a bright spot in the form of a comfortable home and assist in the process is an incredible feeling. The work CAAP is doing to help these families through the Building Blocks for New Americans Fund is especially important, and I couldn't be happier to play a part in it all.
-Dillon Fuad Odeh
CAAP Program Generalist