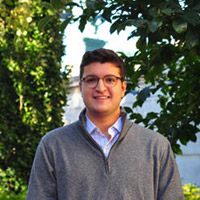 Category: Arab Americans Who Care
Universities are meant to provide a safe space for students, where they can express their opinions, study, gather, practice their religion, or express their culture. For Omar Abboud, a third-year engineering student at Columbia University, promoting Arab culture proved to be incredibly important. Omar has accomplished plenty in his time at Columbia, which includes his work to make campus a safer and more inclusive place for students of Arab descent.
The Center for Arab American Philanthropy (CAAP) recently had a chance to speak with Omar about his work at Columbia and to learn more about him and his passions.
The grandson of a Palestinian refugee who was able to graduate from a U.S college without any formal education, Omar understands the importance of hard work. Omar's strong connection and desire to help his community can be seen in all the work he has done in his time at the university. He noticed that the university did not have an outreach program for students of Middle Eastern descent. This led him to Turath, the Arab Students Association
at Columbia. Now President of the group, Omar has helped make Turath a safe space for students of all backgrounds by empowering them through various cultural, professional, and academic events, tied together with the common purpose of promoting Arab culture ("turath" means heritage in Arabic) on campus.
Omar's accomplishments with Turath include organizing a film festival and accompanying lecture series, and hosting the first Ivy Arab Conference, a convening of numerous Arab students from other Ivy League schools. Turath also worked with the group Students Organized for Syria in order to raise money for Syrian youth.
In addition to Turath, Omar works with the Columbia Mentoring Initiative (CMI) to help Arab students transition smoothly in to the university life and make connections with other students.  The goal is to make these students more active on campus, raising awareness of the Arab student population and giving them a collective voice. His commitment to his community is additionally matched by his passion for classical music and international affairs, other areas of campus life in which Omar is deeply involved.
Omar's goal is to "cultivate a culture of giving back in the Arab American community" and ultimately provoke change, which is one of the driving forces behind his volunteerism. He believes the Arab American community has the means to make positive change. In his words, "it just needs to be cultivated from the ground up."
It is so inspiring to see such a promising young individual giving back to the community and helping to bring change, and we hope this inspires others to do the same. For more Arab Americans Who Care, visit our blog.