Category: Scholarships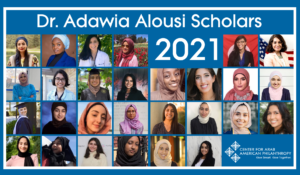 Going into its fifth year of empowering young Muslim American women in STEM, The Dr. Adawia Alousi STEM Scholarship Fund for Muslim Women, housed at CAAP, has recently awarded its 2021-2022 cohort of scholars!
The scholarship fund was created in 2016 to honor the incredible legacy of award-winning researcher Dr. Adawia Alousi, who led ground-breaking research on congestive heart failure and developed a class of drugs that treated the disease. The Dr. Adawia Alousi STEM Scholarship Fund for Muslim Women grants much-needed financial support to women across the country who showcase the same level of curiosity, commitment and drive as Dr. Alousi.
For many of the recipients of the scholarship, this recognition serves more than just financial support for their academic journeys. It's an opportunity to be part of a community of other Muslim women striving to innovate in their respective careers and give back to others.
"It's not easy to find scholarships for Arab and Muslim women. The Dr. Adawia scholarship makes me feel seen and heard. It also reminds me to pass the torch forward as Dr. Alousi generously did for us."
— Haneen Ali, Dr. Adawia Alousi Scholar, 2020 and 2021
This year's scholars have an incredible range of interests and passions. They carry a strong commitment to volunteerism and community service.