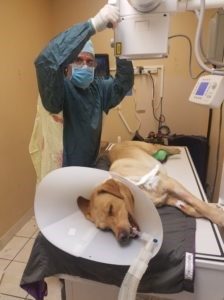 Category: Arab American Culture
Fleeing bombs and bullets, Dr. Aref Alkhouli and his family fled Al Ghouta, Syria. They arrived in 2016 to Dearborn, Michigan, seeking refuge. The family had lost their home, their job, and even their loved ones. Dr. Alkhouli had worked as a veterinarian in Syria, but after months of searching, he had yet to find employment in Dearborn. The family turned to ACCESS. Both Dr. Alkhouli and his wife, Samia, enrolled in ACCESS' job training, budgeting, and credit-building programs. Samia even enrolled in English classes- she is at the highest levels now! But the family needed much more.
Through the Building Blocks for New Americans (BBNA) Fund, the family was assisted with basics, including a few months of rent, furniture, car insurance payments, household supplies, and clothing to help them settle in their new home. This encouraged the family to stand on their feet- and they DID!
And the best part: we helped Dr. Alkhouli find a job he loves! He is now working at DIX Animal Hospital in Melvindale. What can we say? We couldn't keep him away from his cats and dogs.
Give now to support refugee families like Dr. Alkhouli's
Watch Dr. Aref's story