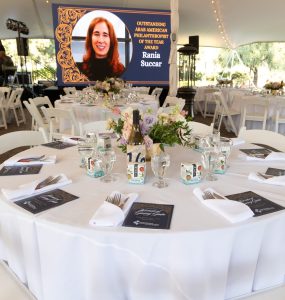 Category: Arab American Giving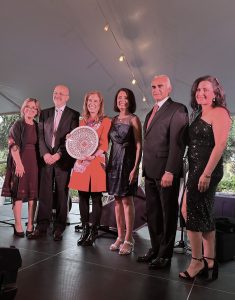 Morgan Hill, CA – On Friday, September 22nd, the Bay Area local community and individuals from across the nation gathered to celebrate a remarkable evening at the Center for Arab American Philanthropy's (CAAP) Threads of Giving Gala at Guglielmo Winery. The event honored the accomplished business leader and lifelong social entrepreneur Rania Succar, who was recognized with the prestigious Outstanding Arab American Philanthropist of the Year Award.  
Every year, CAAP, the nation's only Arab American community foundation, conducts a nationwide search to identify an individual whose philanthropic efforts have made a transformational impact. The gala is hosted in the recipient's home state, where they are honored with the award.  
Rania Succar's philanthropic and community-oriented initiatives have been life-changing for countless lives. In 2011, Rania co-founded a global nonprofit organization, Jusoor, in response to the opportunity gap that existed for Syrian youth. She realized this inequity from a young age when frequent family trips to her parents' native Damascus throughout her upbringing revealed a contrast in opportunities. "My ambitions kept getting bigger and my cousins' dreams were dwindling," shares Rania. Since its inception, Jusoor has engaged thousands of individuals, Syrians and non-Syrians alike, to give back to their community, resulting in a powerful organization that has educated 15,000 Syrian youth and refugees.  
"The Arab world is in a state of crisis. Sometimes, you have to be naive about what you can achieve, and that can unlock endless possibilities. When you exude infectious optimism, you inspire everyone else to believe in a positive vision," says Rania.  
Before establishing Jusoor, Rania also co-founded the Harvard Arab Alumni Association, despite encountering resistance in the wake of the 9/11 tragedy. This organization is devoted to fostering economic prosperity within the Arab world and has since grown into one of the most thriving alumni organizations globally.  
Rania currently serves as the CEO of Mailchimp, where she is focused on powering prosperity for small businesses around the world. 
Attendees at the gala learned about Rania's story through a video and remarks from previous Jusoor scholarship recipients. The event was emceed by Foster City Councilman Hossam "Sam" Hindi. It was capped with a captivating performance by Aswat, an Arabic musical ensemble based in the Bay Area.  
Rania's philanthropic endeavors serve as a role model for Arab Americans, and CAAP, through its services, aspires to elevate more individuals to this level of giving. For more information about CAAP's giving tools, please visit https://www.centeraap.org/funds/types-of-funds/donor-advised-funds/
Relive the Magic of Our Gala