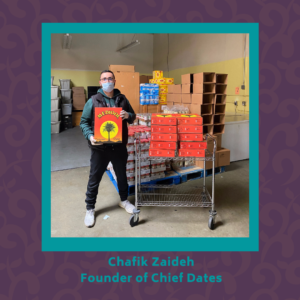 Category: Arab American Giving
"I just hustle, make money and give back," is the motto for this 27 year old Syrian American.
Chafik "The Chief" Zaideh is the Director of Business Development at Granada Islamic school, as well as a business consultant who helps define streams of revenue for nonprofits to continue providing their services.
But when he isn't at work, he is either writing his own raps or designing clothes for his brand, Chief Clothing. His newest venture: Chief Dates.
In the anticipation of Ramadan, especially in the midst of the COVID-19 pandemic, Zaideh came up with a solution to deliver dates, so that people could continue to adhere to the shelter-in-place guidelines in California.
"The whole idea was 1) to make money, 2) and this is my personal philosophy, I do not engage in any type of business unless this is checked off, is there a form of giveback? Am I doing anything good for the community? And 3) is it going to be fun for me, because what's the point of making money and serving people if I am miserable about it?"
Zaideh initially thought this idea would only attract Muslims in the Bay Area, but to his surprise, he started getting buyers from different backgrounds all over the country.
"With all those variables in place—the demand from outside of the Bay Area, to people staying at home,and Ramadan being around the corner—I was taking way more orders than I could supply and I was sold out in 3-4 days."
The cherry-on-top for Zaideh was the donate option on his Chief Dates website. This allowed those who were purchasing a box of dates to also pay a cheaper price to donate a pound of dates to a family in need. He partnered with Rahima Foundation, a local nonprofit committed to distributing food to Muslim families in need.
"Almost every other person who purchased a box of dates sponsored a box to a family in need. Mind you, the price of that box is significantly cheaper than what you would pay for yourself and that is because it was going to a family in need, so we cut back on our profit margins. We aren't going to make money from donations."
The total families served was 130 and of that, 40-50 were donations, shared Zaideh. After they sold out, he still had 60 families on back order.
"A lot of people were disappointed that I couldn't fulfill their requests, and for that I am truly sorry," Zaideh said. "To continue doing it, I realize it is a very big operation. . . I am a one man
team so I couldn't continue this operation alone. But for the next round, I now know how to better structure this because clearly, the demand is there."
Zaideh's guiding business philosophy stems from his upbringing.
"I do not want to be a cliche who says it was their immigrant parents that shaped their perspective, but that is exactly what it is," Zaideh said.
His parents immigrated from Syria to the Bay Area in the early 90s, and watching his parents navigate a new country and "hustle" to provide for their family inspired Zaideh to focus on giving back.
"Growing up Arab American and seeing that my parents came here to the United States with not much, and then essentially laid out a promising future for me and my siblings; as well as being Muslim American who truly values the word of God and giving back and serving—the combination of the two, plus my background in business, created the perfect equation for waking up with a greater purpose to serve my community," Zaideh shared. "And that is exactly what I hope to do in all of my endeavors."
– Jana Kadah, Community Organizer and Guest Writer