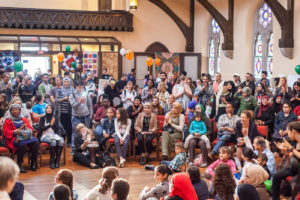 Category: Arab American Giving
In 2016, CAAP supported numerous organizations all over the country through our competitive funds, each organization providing important services in various fields such as humanitarian relief, human services, arts and culture, and youth leadership development. CAAP supported the relief efforts of Baitulmaal through the Disaster Relief fund, as it provided necessary aid to those affected by the ongoing crisis in Yemen; and also supported youth-focused organizations in San Diego and Metro Detroit through our Teen Grantmaking Initiative (TGI), tackling such issues as domestic violence, substance abuse, and healthy lifestyles.
Through our 2016 Giving Guide, you will be introduced to the admirable work of this year's competitive grant recipients! Check it out – we hope you'll find it useful! Please visit our grants database to learn more about past grantee.