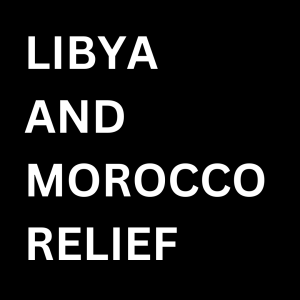 Category: Disaster Relief
We are saddened by the climate catastrophes happening in Libya and Morocco and the thousands of lives that have been lost. In response, we have launched two campaigns to support survivors of the tragedies.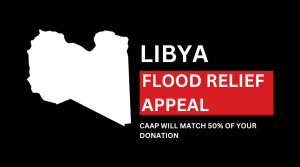 The devastating floods in Libya, resulting from a dam bursting during a severe storm, have caused widespread destruction throughout the country. It is feared that over 11,000 lives have been lost, with countless more families now left without shelter, food and access to clean water.
100% of your donation to CAAP's Disaster Relief Fund, plus an additional 50 cents to the dollar match, will provide vital assistance to Libyans enduring this crisis. These funds will be granted to UNICEF, a trusted organization we've identified that can bring relief into Libya, facilitating the distribution of emergency medical supplies, clothing, hygiene kits and other necessities to those affected.
As we witness the devastating climate catastrophes in the region, we hope you will extend a helping hand and offer hope to those who find themselves in the midst of this dire situation.
Give to This Fund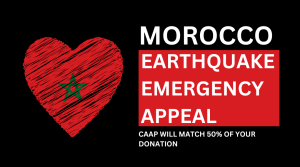 Our hearts go out to the people of Morocco who were hit by a horrific 6.8 magnitude earthquake and a 4.9 magnitude aftershock just 20 minutes later, killing more than 2,600 people, wounding thousands more and shaking entire cities to the ground.
As the disaster leaves countless families vulnerable, we are launching a campaign to bring immediate support. Multiply the impact of your gift by giving to the Disaster Relief Fund at the Center for Arab American Philanthropy (CAAP), where 100% of your donation, with an additional 50 cents to the dollar match, will be granted to World Central Kitchen, who is delivering fresh meals, including sandwiches, fruit and water, to the hardest hit communities.
When you give through CAAP's Disaster Relief Fund, you make a larger impact on supporting families who have lost their homes, livelihoods and loved ones.
Give to This Fund