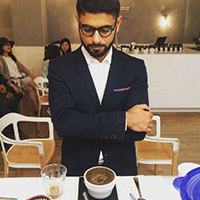 Category: Arab American Culture
Coffee is the world's second most valuable traded commodity. Coffee owes its origins to the Arab World, as it was first produced in the port city of Mocha in Yemen. It should be no surprise, then, that there exists a strong connection between coffee and Arab culture; the English word for coffee even comes from the Arabic word for coffee, 'qahwa'. Coffee has had a huge impact on the world, and it perhaps has had an equally great impact on Yemeni American Mokhtar Alkhanshali.
A world-renowned coffee taster, Mokhtar has used his passion for coffee to do something incredible. Mokhtar founded Mocha Mill, a coffee company that works at the birthplace of coffee cultivation and production: Yemen. Mocha Mill is a social entrepreneurship venture that works directly with Yemeni farmers to empower them, help improve the quality of their coffee and lives, and to also help
bring Yemen and its coffee back to prominence in the world coffee trade. The Center for Arab American Philanthropy (CAAP) had a chance to speak with Mokhtar recently, learning more about him and his coffee-fueled passion.
Mokhtar was raised the U.S. and frequently traveled back and forth to Yemen. He has a background in social service and civil rights, working with a number of organizations directly involved with these issues. He spent time working with high school Arab youth in afterschool programs at the Arab Cultural and Community Center in San Francisco, and was one of the founders of the California branch of the American Association of Yemeni Students and Professionals (AAYSP), a national organization that promotes innovation in advancing the educational success of Yemeni Americans. Afterwards Mokhtar began working to advance civil rights for Arabs and Muslims, offering legal assistance at the Arab Resource and Organizing Center (AROC).
Mokhtar has long had a passion for coffee; his Yemeni family has cultivated it for generations, and he is always talking about the caffeinated beverage with friends. His work with world renowned coffee experts at Boot Coffee led to his becoming a licensed Q Grader (a professional and world-renowned coffee-taster); in doing so, he became the first Yemeni Q Grader and Arabica coffee Grader of Arab descent in the world.
Mocha Mill represents a true passion project for Mokhtar. Not only does it involve high-grade coffee, but it involves assisting and empowering fellow Yemenis. By founding Mocha Mill, Mokhtar was able to return to the birthplace of coffee commercialization, the port city of Mocha, Yemen. Yemen is the only Arab country that exports coffee, and, with civil unrest following the Arab Spring in 2011,
obtaining high-grade Yemeni coffee has become increasingly difficult. Many Yemeni farmers rely on coffee production and sales for a living, but the unstable political situation makes their product hard to source, making life difficult and dangerous for these farmers (and Mokhtar, as traveling to the country is also difficult and dangerous).
In an effort to bring Yemeni coffee back to the world and to help Yemeni farmers survive and thrive, Mokhtar works directly with farmers in Yemen to cultivate high quality coffee by doing on the ground farming interventions in different coffee producing areas in Yemen and selling their product across the world. He works with tens of thousands of farmers in Yemen, and 75% of his employees are women. These farmers rely on Mokhtar's company to buy their coffee, which emphasizes how important his work truly is to the region. Additionally, Mokhtar wanted to combat the "qat," a pervasive drug that is sold as a cash crop, and is using too much of the country's critically-needed water supply. He eventually hopes to start a nursery and plant 100,000 seedlings and give them away for free for those who want to plant coffee instead of qat. Through Mocha Mill, Mokhtar is able to make coffee an attractive alternative to qat, and is bringing new life to the city of Mocha. He's been so successful that the specialty Yemeni coffee produced by his farmers is currently rated as one of the most expensive and highest quality in the world.
Mokhtar has always wanted to do something good for others, as he has always liked helping people. His work through Mocha Mill isn't just a result of his coffee passion and desire to help struggling Yemenis in a time of need. Through this social venture, Mokhtar is working to inform and educate the world about Arabs and their contributions to  society.
To read about more Arab Americans Who Care, check out the rest of our blog series!