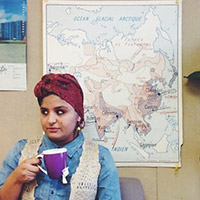 Category: Arab American Culture
Photo courtesy of GOOD Magazine
The Center for Arab American Philanthropy (CAAP) recently got a chance to speak with Tasbeeh Herwees, founder of Kifah, a Libya-focused online magazine, and a current employee of GOOD Magazine, a news organization that combats the negativity of today's media by sharing positive news stories, to learn more about her and her work.
CAAP: Tell us more about yourself and Kifah.
Tasbeeh: After the conflict in Libya in 2011, my cousin and I wanted to start a Libya-focused magazine for the diaspora; I was 18 at the time. I wanted to provide a mediating voice with different perspectives about the Libyan revolution. Kifah is a way to address an audience that has largely been ignored, an afterthought and marginalized (geographically and culturally), and allows us to bring awareness to others of a country and people that are given little coverage in the media. Kifah ultimately provides a voice for Libyans in the Western world and creates a space for Libyans and Libyan Americans to foster new ways of thinking, as the site discusses several topics ranging from politics, social issues and culture.
CAAP: Tell us about GOOD magazine and why you wanted to work there.
Tasbeeh: GOOD is a media organization; we report and discuss things that might be deemed "good": at the same time, we really try to problematize what makes something "good". Recently, with the relaunch of our site and magazine, we've really tried to move away from relentless optimism and towards pragmatic and critical perspectives on the world. I started out as an intern in the summer of 2014. I've wanted to be a journalist since I was in middle school—I eventually went to journalism school at the University of Southern California (USC)—because I felt like there was a dearth of Arab-American voices in the media and that we weren't being given space to tell our own stories. That's what attracted me to GOOD, Inc.; I knew I would have a more prominent voice at a smaller publication like GOOD and would be able to better articulate my own perspective.
CAAP: What would you like most to achieve now or in the future, either with GOOD or individually?
Tasbeeh: I really want Kifah to grow, when the resources are available, at least. Right now we aren't really able to do everything we would like due to limited funding. I eventually want to work in North Africa, specifically in Libya, and would also like to continue my education in grad school. At GOOD, I'm really focusing on honing and crafting my voice as a writer, and that is what I'd like to continue to do while I'm here.
CAAP: Do you identify as Arab American? What advice do you have for other Arab Americans who want to give or help others?
Tasbeeh: I had always considered myself Arab growing up, but I didn't really fully engage with Libyan culture and my Libyan identity until later in life. Growing up, I didn't really interact frequently with Libyans, as there are very few in California (where I live), so I was never fully aware of my Libyan identity. Most of my friends were of different Arab ethnicities, from Palestine and Lebanon and Syria. It wasn't until after the uprising that I became really conscious of my Libyan heritage.
As for advice for others, I recommend just allowing yourself to be educated. Let people who already set the groundwork mentor and educate you. Allow yourself to get experience from under someone else; it's important to respect the work of others that has already been done.
Thanks for taking the time to speak with us Tasbeeh! We hope you continue sharing GOOD news with the world and also providing a voice for Arab, Muslim, and Libyan Americans alike! If you would like to read about more Arab Americans Who Care, read our blog series here.