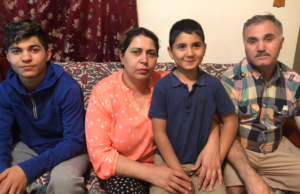 Category: Refugees
When a missile landed across the street from Asmaa Othman's house in Syria, she feared for her family's lives. The following morning, Asmaa, her husband, Moussa, and three of her four sons (Rudy, Rayan, and Abdulrahman) walked out the door and left their life behind. Forced to leave her son, Loran, in Syria, she was exhausted, physically and emotionally. Travelling from country to country, and from one refugee camp to another, they eventually settled in Dearborn, Michigan.
ACCESS helped Asmaa, Moussa, and Rudy find good jobs. The kids were given school supplies and winter clothing, and the family able to receive medical coverage. Through the Building Blocks for New Americans (BBNA) Fund, they were set up with a house, a few months of rent, furniture, and household goods. Asmaa was taught to drive (something she had dreamed of doing for a long time), and through the BBNA Fund, she even got her first car!
Today, the family is reunited. Loran is finally here in the U.S., Rudy is planning to join the U.S. army, and Asmaa loves her new hotel job! The family is thinking of buying the house they currently live in, and they are thinking of opening a small family business soon.
Give now to support refugee families like Asmaa and Moussa's