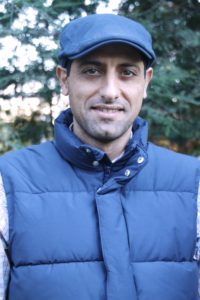 Category: Arab Americans Who Care
Before joining 1for3, I decided to volunteer first. The first thing I said to them if they are really interested in working in Palestine is that they should come with me and learn firsthand what the community wants. At that point, we realized that for us to do good and successful work in Palestine, the community must be involved in every step of the way. We are not a charitable organization, and they are not recipients of a service. We are partners.
Nidal al-Azraq is a Palestinian refugee born in Aida Refugee Camp in Bethlehem in the West Bank of Palestine. He spent most of his life in the camp until 2006, when he came to the United States. Nidal earned his Bachelor's Degree with Honors from Harvard Extension School, and earned the Dean's List Academic Achievement Award and the Derek Bok Public Service Prize. He has spent more than 15 years serving the Palestinian refugee communities through several different organizations, including the Lajee Center and 1for3, which he is now the Executive Director of.  
During Nidal's start with the Lajee Center, a children and youth center in the Aida Refugee Camp, he worked with children on all sorts of projects. Nidal remembers clearly how the children took him in to their lives — teaching him how to use a computer for the first time. "They have been my inspiration and my force to do as much as I can to make their life not perfect, because there is no perfect life there, but as empowering, inspiring and as moving as possible. I decided to give everything I have completely in terms of resources, time and energy," Nidal said.  
The first project they successfully completed in the camp was a library. Soon after, Nidal said they created a dancing and music group and a playground for the children as well. Doing these projects had helped Nidal and the Lajee Center establish a trusted relationship with the community. "They live in a complicated political situation there, so we did as much as we could to create a space that these children could think for themselves," he said. The goal of Nidal and the Lajee Center was to help these children become independent thinkers and decision-makers. 
Before Nidal accepted the Executive Director position with 1for3, he requested that they travel to Palestine to hear directly from the people about what they needed. When they met with the community — men, women and children — they learned of their need for water. Israel controls over 80% of the water in the West Bank, making it difficult for those in refugee camps to access it. "They told us we don't want funders, we need partners. This reaffirmed my philosophy working in Palestine and taught me a lesson to always listen to the local people," Nidal said. 
1for3, a nonprofit organization aimed at alleviating the challenges Palestinian refugees face with water, food, health and education, started by building a rooftop garden on the Lajee Center with the community. After that, Nidal said they started building more for families in need and who showed high interest in them. Their reliance on outside produce was cut by half. Today, there are 40 rooftop gardens implemented in the Aida and Azza Refugee Camps. Nidal said they're working on hydroponic rooftop gardens currently to cut down on water usage and produce bigger results.  
The work 1for3 does is based on true partnership and not a budget — even if there isn't any money, the organization continues to work with the communities of the refugee camps. "It gives them hope to see that something is working in their lives in the middle of a broken and oppressive system, and it empowers them because they own it," Nidal said. In addition to the rooftop gardens, they create jobs for newly graduated students and give services with dignity to a group of people who suffer from diabetes and hypertension who only have access to low quality medical treatment. "We give people some of the most important basic human rights — the right to clean water, enough food, and a safe and loving environment for the children to get their education," he said.  
Nidal hasn't had easy lessons in his lifetime, but if he had one to share, it would be to eliminate the colonial way of thinking. "My advice is to whoever you work with, whether it's Palestine, or the Arab World, is to work as a partnership and don't work as the expert and the provider of the recipients. Be in a partnership, have them involved in every step of the way in the thinking; in the process; in the deciding; in the ownership," he said. "For anything to succeed, it has to be this way." Nidal said to go openly into these environments ready to learn more than teach, trusting the community to pave the way. He also recommends investing in the younger generations. He believes children are truly the key to a great and successful future. But to do this, one must spend years building a trusted relationship with the children. "The young people are worth every single investment," he said. "But it's the most difficult job you do because if you succeed — that's wonderful. But if you fail, you harm everything. They need the resources and they need a real partnership to help them get past these difficulties."