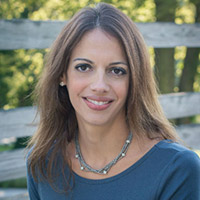 Category: Arab American Culture
An Indiana University – Purdue University Indianapolis (IUPUI)administrator and professor, Genevieve Shaker has spent many years working in the field of philanthropy. Recently, Genevieve was honored with two awards. The Association of Fundraising Professionals selected Genevieve as the recipient of the organization's 2015 Emerging Scholar Award. The award is recognition of Shaker's work and research to shape the fields of fundraising and philanthropy as it provides insight regarding the donor motivations and giving trends. The Indianapolis Business Journal (IBJ) honored Dr. Shaker by selecting her for their annual 'Forty Under 40' list, which recognizes exceptional individuals who are accomplishing great things in their field as well as in the Indianapolis community. The Center for Arab American Philanthropy (CAAP) had a chance to speak with
Genevieve to congratulate her on her awards and learn more about her work and
inspirations.
As she was growing up, Genevieve was surrounded by generosity. Her grandmother was Executive Director of the American Lung Association in her Ohio community and there was a history of public service on both sides of her family; her parents were educators, and others were involved in education and service as well, including her brother who is also a university professor. It comes as no surprise then, to see that Genevieve got involved in the world of philanthropy at a young age, as part of the Girl Scouts and as a volunteer at her local library as a high school student.
Genevieve went on to higher education, receiving her master's degree in philanthropy from IUPUI and beginning a career on campus shortly thereafter. While working at IUPUI she earned her doctorate in higher education administration from IU Bloomington, with a minor in philanthropy. Today, Genevieve has a prominent role at IUPUI, working as an administrator for the university in development and communications for the School of Liberal Arts and teaching and participating in research for the Lilly Family School of Philanthropy.
Dr. Shaker says her interests and values are a result of the culture and tradition of both sides of her family—and awareness that the United States is a nation of immigrants. Her father's grandparents hailed from Lebanon, while her mother's side is of European origin; she lived with her parents in several different countries, making her aware of just how important community really is. Genevieve proudly identifies as Lebanese American and a citizen with global responsibilities.  She supports a variety of causes in her local community, including the Red Cross where she serves as a board member, emphasizing that local philanthropy can have broad-reaching impact in today's global society. Her main passion is supporting community needs and helping others to give and spread generosity. When asked what her greatest achievement was, Ms. Shaker replied that she believes her role is to thoughtfully facilitate and foster the philanthropy of community members. She considers being able to help people make life-changing gifts to the university and teaching students about philanthropy to be a privilege and joy; it's satisfying, she says, to support the development and fulfillment of others' philanthropic dreams and goals.
Her advice for those wishing to get involved in philanthropy? Follow your passions. It's important to "figure out what it is you really care about" and support it. As a university professor, she sees young people who feel they do not possess the necessary funds to be philanthropic, which prevents them from exploring their own potential. Genevieve says that such things should not hold people back; there are many ways to give that are not monetary and people should not "underestimate what they can do as individuals or communities". Giving of time and talent is as important as giving money, she says.
Thanks for taking the time to speak with us, Genevieve! We congratulate you on your well-deserved awards and recognition and hope you continue to bring change and inspire others to give. If you are interested in reading about more Arab Americans Who Care, read our blog series.