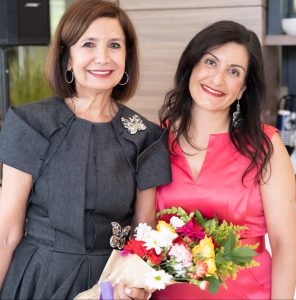 Category: Arab Americans Who Care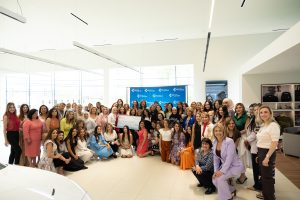 On Saturday, May 13, the Center for Arab American Philanthropy's 100 Arab American Women Who Care giving circle came together in celebration of its tenth-annual event at Land Rover Novi and pooled its collective donations to grant $10,000 to the Penrickton Center for Blind Children. The event was joined by Congresswoman Rashida Tlaib and featured several Arab American women-owned business vendors. Since its inception, this initiative has granted a total of $94,000 to various local organizations.
The Center for Arab American Philanthropy (CAAP), is the nation's only Arab American community foundation. In 2013, local philanthropist and current advisory board chair of CAAP, Rasha Demashkieh, helped plan the first-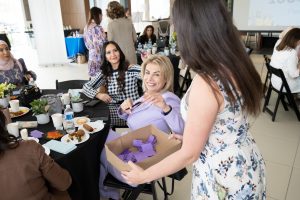 ever 100 Arab American Women Who Care and has led the planning committee for the last decade.
"When I was introduced to the concept of a giving circle from another community foundation, I knew that I wanted to bring it to my generous Arab American community, helping make our giving more strategic," said Demashkieh.
This women-led giving circle aims to showcase the impact of collective giving while equipping Arab American donors with philanthropic tools and ultimately granting funds to one worthy organization.
"Oftentimes, people feel very intimated by the practice of philanthropy. It's understood as being something that is out-of-reach for many," said Demashkieh, "But through initiatives like this one, we are showing that you don't have to be incredibly wealthy to be a philanthropist. When we give a little but leverage our giving, we can make a much larger impact."
One hundred or so attendees nominate an organization when registering for the event. Three nominated organizations are chosen at random on the day of the event, and attendees pitch for their respective nominated organizations to receive the $10,000 grant. All the guests vote, and the organization with the most votes wins the funds. The three organizations pitched this year were the
Pe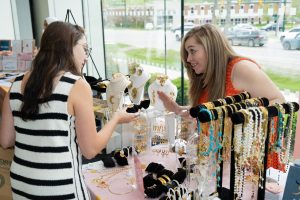 nrickton Center for Blind Children, A Girl Like Me (nominated by Congresswoman Tlaib), and Project Dignity Outreach, with the Penrickton Center receiving the most votes. In the past, this initiative has supported various 501(c)(3) organizations, including the Belinda Sue Fund for Ovarian Cancer Awareness & Research, Kids Against Hunger, and Arbor Hospice.
The 100 Arab American Women Who Care has helped re-write the narrative of Arab Americans and shape perceptions about an often-misunderstood community. "Once we make the grant, CAAP often hears back from the grantees, who not only express gratitude for the donation, but also become curious about the Arab American community," said CAAP Director Tamara El-Khoury, "It helps create an opportunity for individuals to learn more about our community's generosity and contributions."
This year's event also featured a video that included testimonials from previous grantees.
"In 10 years, we've supported countless organizations with nearly $100,000 of funds, helped advance our narrative, and created a space to empower each other," said El-Khoury, "Can you imagine what we will continue to accomplish in the next decade?"
To view all the photos from the event, please visit https://www.flickr.com/photos/accesscommunity/albums/72177720308332172