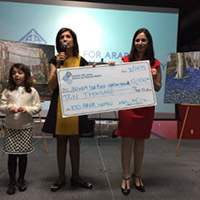 Category: Arab American Culture
On March 28, the Center for Arab American Philanthropy(CAAP) hosted its 2nd annual 100Arab American Woman Who Care event in Dearborn, Michigan. The event, which took place in the new annex space of the Arab American National Museum, saw more than 100 Arab American women gathering together to pool their money to make a bigger impact to cause that matters to them.
At the event, each attendee is asked to nominate a charity of their choice. 3 charities are then selected at random from the women's nominations. Once the 3 choices are selected, the women who nominated each charity briefly explains the organization's work and why it is important to them. Afterwards, all attendees vote for one nonprofit from the 3 choices, with the winner receives  the proceeds raised from the event.
This year, the three charities that were drawn at random were the American-Arab Anti-Discrimination Committee (ADC), a grassroots organization committed to protecting civil rights, promoting mutual understanding, and preserving the Arab American cultural heritage; Zaman International, a nonprofit committed to addressing the basic needs and empowerment of marginalized women and children locally and internationally; and the Belinda Sue Fund for Ovarian Cancer Awareness & Research, a nonprofit committed to increasing awareness of and support for research for Ovarian Cancer.
The attendees ultimately voted the Belinda Sue Fund as the winning charity, awarding a $10,000 grant to the organization. Mabrook!
We want to thank all the generous and caring women that attended and made 100 Arab American Women Who Care a huge success for the second year in a row! We look forward to continuing to make an impact and hope to inspire others to do the same. When you give smart and give together, you can make a real difference in people's lives.