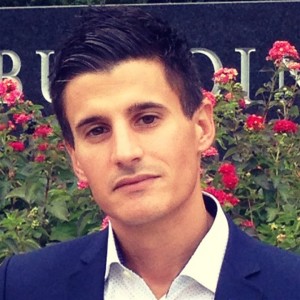 Category: Arab Americans Who Care
Omar Shehabi didn't always identify with his Palestinian-Arab identity. A  first-generation Arab American born in Warren, Ohio, Omar was cognizant of his ancestry growing up, as his mother is of Lebanese descent and his father immigrated to the U.S. from Palestine in the 1960s. The Shehabi family has its roots in Jerusalem, in the Old City compound that bears the family's name (Hosh al-Shihabi), which is located near the Iron Gate (Bab al-Hadid) of Al-Aqsa Mosque. At the age of seven, Omar's father was internally displaced from his home on the Mount of Olives in what would become the Palestinian nakba.
Despite his family history, Omar never truly pursued a greater understanding of Arab culture and Arab activism until he was an undergraduate student at George Washington University (GWU). Omar studied at GWU during the Iraq War in the early 2000s, so much of the activism he witnessed dealt with this hotly contested issue.
After he graduated from GWU, Omar went on to study law at the University of Notre Dame. Following his first year of law school, Omar traveled to Palestine as a volunteer with the United Nations Development Programme (UNDP), which assigned him to work for the Palestinian Ministry of National Economy. It was during this trip, towards the end of the Second Intifada (Palestinian uprising), that Omar truly began to identify with the Palestinian people and their struggle for independence.
Despite the misgivings of his father, who perceived the Palestinian cause as a potential career-wrecker, Omar vowed to return to Palestine one day. After six years in law firm practice, Omar made good on that commitment, founding an organization, Palestine Works, to promote Palestinian human rights and development by creating knowledge-exchange opportunities between Palestinians and foreign nationals. Through the organization's Law Fellowship, Omar has creating a platform for law students around the world to contribute to the defense of human rights in occupied Palestine and Israel, while developing young professional advocates for Palestinian equal rights. In the Law Fellowship's first three years, over 50 law students and recent law graduates have contributed tens of thousands of pro bono hours to more than 20 human rights organizations serving Palestinian communities. Alumni of the Law Fellowship have gone on to top law firms, government positions, and public-interest legal organizations, dispelling the conventional wisdom that Palestine advocacy is an obstacle to professional success.
Through Palestine Works, Omar has already been able to produce notable achievements. In 2014, the United Nations launched an investigation into human rights violations committed during the hostilities in Gaza and the West Bank during the summer of 2014. Palestine Works, through a team of Law Fellowship alumni, contributed to this investigation by submitting a report focusing on violations committed in occupied East Jerusalem. As for upcoming opportunities at Palestine Works, Omar is excited about its forthcoming report of religious freedom in Palestine and Israel, as well as its newest project, the Young Palestinian Lawyers Fellowship (YPLF), a capacity-building program for a new generation of Palestinian lawyers in occupied Palestine, Israel and the diaspora that culminates in a conference in Palestine to be held in the summer of 2016.
When asked for advice to give to other Arab Americans looking to give back to their communities, Omar says it is important to respect your grandparents' and parents' past, but it is equally important to realize that you are not bound or defined by it. Omar has a sense of excitement and optimism about the younger generation of Arab Americans, being especially thrilled with their strong sense of activism and awareness of important issues affecting the community.
We would like to thank Omar Shehabi for carrying out this important work and providing students with an opportunity to make an impact through their career! Meet more Arab Americans Who Care.