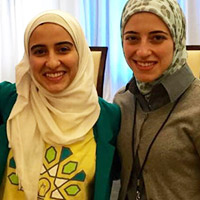 Category: Arab American Culture
Social activists with strong interests in helping under-served and underprivileged communities, Amal and Amany Killawi are making quite an impact on the world.
Amal Killawi is a clinical social worker, researcher, and community educator. She serves as a scholar with the Institute for Social Policy and Understanding (ISPU) and sits on the board of the Family & Youth Institute (FYI). Her sister, Amany is the Co-Founder and Director of Operations at LaunchGood.com: a crowdfunding platform to support Muslims launching good all over the world.
The Center for Arab American Philanthropy (CAAP) recently had the chance to speak with Amal and Amany about their work, learning more about their giving inspirations and aspirations, as well as learning more about their individual work.
Amal and Amany come from humble beginnings. Their parents are immigrants from Syria. Born and raised in Detroit, the two sisters grew up less privileged than others, living in a low-income community. These challenges didn't prevent their mother from being charitable and kind to others, however. Amal recalls her mother would pass out clothing to the needy as well as counseling others on a variety of problems. Their mother's generosity provided inspiration for the sisters' future charitable endeavors.
While receiving her Bachelor's Degree in Social Work at Wayne State University, Amany became a founding member of the Detroit Minds and Hearts Fellowship, a social incubator where she worked with inner city Muslim youth to help develop and launch their own community initiatives.
Amany had a desire to do more for the Muslim community outside of Detroit Minds and Hearts, which would eventually lead her to co-founding the website LaunchGood. She wanted to showcase the generosity and good work of the more than 1.6 billion Muslims in the world and help them launch their own projects. LaunchGood is a crowdfunding platform focused on supporting Muslims launching good all over the world by helping them raise funds for their initiatives. Launched in 2014, the site has already seen great success, as it has raised over $1 million dollars for more than 150 projects in 17 countries.
Amany's sister, Amal, is one of the thousands of project leaders, as she decided to utilize LaunchGood as a platform to initiate a campaign to help Syrian refugee women. Inspired by a Huffington Post article about the sanitary care struggles faced by homeless women, Amal wished to initiate a similar campaign to provide feminine hygiene products to Syrian refugee women who are displaced with little privacy and no access to basic sanitary care. In collaboration with NuDay Syria, a Syrian humanitarian organization, the campaign aims to preserve the dignity of Syrian refugee women by providing them with feminine hygiene kits.
Initially, Amal had a goal of raising $5,000, but support was so strong for the campaign that they quickly surpassed this goal, and as of this writing, the project has raised more than $20,000. If you would like to contribute to the project, please follow this link.
Amany and Amal are perfect examples of individuals giving back to others to bring about change and improve communities. When asked for advice they would give to those wishing to help their communities and give back the sisters advised to "find what fits you and go for it.  There is no loss when it comes to charity, only gains; it does not decrease your wealth, as it helps you grow as a person in addition to helping others."
Thanks for sharing your kindness and generosity with the world, Amal and Amany, and we hope you continue to bring positive change wherever you go. If you would like to read about other Arab Americans Who Care, check out our blog series.