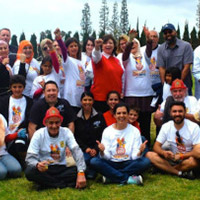 Category: Arab American Culture
On Saturday, May 16 many of our 2014 grantees took part in the 11th Annual Arab American Service Day, hosted by the National Network for Arab American Communities (NNAAC). National Arab American Service day sees thousands of volunteers from diverse backgrounds around the nation give back to their communities through various service projects.
Photo: Access California Services
In California, Access California Services gave back to their community by beautifying Palm Lane Park in Anaheim. Volunteers sanded and painted bleachers and trash can barrels, put down mulch and picked up trash in the surrounding area. Somali Family Service of San Diego also took part, as they hosted a farming project where volunteers had the opportunity to learn about farming and how it contributes to the well-being of refugees and immigrants.
Photo: Somali Family Service
In Atlanta, Alif Institute held a toy drive where they collected items for children of refugee and immigrant families. And in New York the Arab-American Family Support Center volunteered at the Jacob A. Riis Neighborhood Settlement House, a community-based organization that provides services and programs to youth, family, immigrants and seniors in the western Queens community.
Photo: Arab-American Family Support Center
It's so great to see so many people from different walks of life coming together to make a difference in their community and we hope this inspires others to get involved in their own communities!