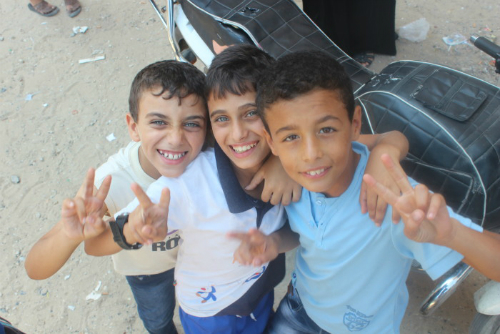 About this Fund
This agency fund supports Taawon (formerly the Welfare Association) in Palestine, a leading Palestinian nonprofit organization, working in Palestine and in Palestinian refugee camps in Lebanon.
With programs in education, community development, emergency aid, and cultural preservation, Taawon aims to achieve the following:
Encourage the preservation of Palestinian culture and identity and the revival of Palestinian cultural heritage.
Develop, upgrade and empower Palestinian individuals to become productive, professional and capable of achieving their goals and aspirations and to contribute to economic and social change.
Empower local institutions and assist them in providing services that respond to the needs of Palestinians by employing the requirements of good governance and achieving sustainability.
Provide rapid and effective response to any emergency situation that may put the life, security or health of Palestinians at risk.

Current Campaign
Feed Gazan Families In-Need While Empowering Local Farmers 
In addition to the violent 15-year siege on Gaza, last year's attacks on families in this region have made  85% of them unable to sustain themselves financially. This Ramadan, Taawon is looking to tackle the rampant food insecurity amongst this community while supporting the local economy by purchasing fresh produce from local farmers to give to Gazan families-in-need. Over the period of 5 weeks, Taawon looks to help 3,000 families and support 300 local farmers. A $200 donation will feed a family for the entire month of Ramadan. Last year, your donations were able to provide food to 8,000 families while empowering 600 local farmers. Let's come together and bring relief to this community again.
Additional Information about the Taawon Fund
Taawon also administers the Orphans of Gaza 2014 Program, which provides a comprehensive, long-term approach to strategically meet the needs of 2,500 orphans, from infancy through age 22. From healthcare and housing, to school uniforms and university fees, to vocational training and employability skills, the program surrounds each orphan with a fully-integrated support system throughout the critical years of childhood and adolescence.
Taawon is the only organization of its kind – give now to make a real difference for Palestinians!