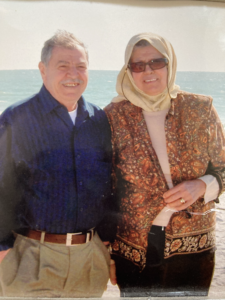 About this Fund
The Alasmar Palestinian Refugee Education Fund honors the lives and values of Mohamad Abdel-Rahman Abdel-Nabi Alasmar and Adibeh Arif Safi by supporting educational opportunities for Palestinian women refugees in the occupied territories. The goal of this scholarship fund is to empower ambitious Palestinian women to acquire an education by equipping them with the tools they need to succeed.
Mohamad's and Adibeh's Story
Mohamad and Adibeh were known for their forward-thinking values, hospitality and pride in their heritage.
Mohamad's family was displaced from their home in Al-Haditha, Palestine in 1948, when he was only 12 years old. As refugees, Mohamad's parents had few options for providing educational opportunities for their children, so they made the difficult decision to register Mohamad as an orphan, putting him on a path to attend school. After graduating from the Friends Boy's School in Ramallah, Mohamad lived and taught at Am'ari Refugee Camp in Al-Bireh for three years. Mohamad earned a soccer scholarship to Wilmington College in Ohio, where he studied Mathematics and Teaching. In 1962, he married the love of his life, Adibeh, and moved to Kuwait, where he worked as a teacher. 
Adibeh was also born in Al-Haditha and was raised in the surrounding area. After moving to Ramallah, Palestine, she started working towards her dream of becoming an educator by attending a teacher's school. In search of better work opportunities, Adibeh also immigrated to Kuwait, where she worked as a beloved teacher and was eventually promoted to principal, serving for nearly 20 years. As her career grew in Kuwait, Adibeh never forgot her family in Palestine, sending most of her salary back home to help them build a new home, which still stands today, and pay for her siblings' education. Adibeh and Mohamad moved to Union, Kentucky in 1973, where they raised their six children: Amani Warden, Tahani Othman, Ayman Nabi, Amjad Nabi, Hadeel Alrez and Sammy Nabi. In Kentucky, the Alasmars felt as close as they could to home since they were living among family, including Adibeh's four brothers, Adib, Walid, Farid and Wajih, and one sister, Farida, as well as Mohamad's brother, Abed.
The Alasmar's Values
Mohamad and Adibeh instilled in their children, particularly their daughters, the values of financial independence and education. Mohamad especially recognized the importance of a degree in advancing women into powerful positions and worked hard to equip his daughters with the resources and support to succeed.
Even though the Alasmars faced financial challenges as new immigrants, philanthropy continued to be one essential part of how they gave back. As a refugee himself, Mohamad understood the importance of advancing human rights and demonstrated his commitment to helping others through his continued support for organizations like the American Civil Liberties Union (ACLU).
Adibeh became an emblem of her culture in Union, Kentucky, sharing pieces of her heritage with her neighbors and ensuring her children also embraced their Palestinian identity. When resources were especially stretched at home, she made sure there was always a meal on the table, going as far as growing most of their food in their backyard. Adibeh was an active member of the Kentucky Extension Homemaker Association from 1975 until 2015.
Up until their last breaths, Mohamad and Adibeh, more than anything, cherished each other's love and commitment to each other. Mohamad passed away on June 16, 2022, from kidney failure. Adibeh passed away on November 13, 2022, from Non-Hodgkin's lymphoma.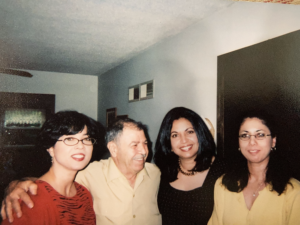 The Alasmar Palestinian Refugee Education Fund upholds their legacy by providing scholarships to support the academic pursuits of women across Palestine.