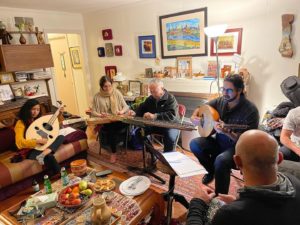 Dedicated to preserving, showcasing and celebrating Palestinian culture, the Palestine Museum US in Woodbridge, Connecticut maintains a permanent collection of art by Palestinian artists and a research library of books about Palestinian history and culture. Through its various cultural programmings such as author talks, lectures on Palestinian history, concerts, cultural events and films, the Museum brings to life the Palestinian story from the perspectives of Palestinians of all different backgrounds.
Being the first Palestinian museum in the Western Hemisphere, the Museum is a trailblazer in uplifting the cultural legacy of its culture, while ensuring that visitors gain a multi-dimensional and appreciation for the Palestinian experience.
Current Campaign:
The Palestine Museum US, located in Woodbridge, Connecticut, has been selected as one of about twenty international art institutions to present a "Collateral Event" exhibition to 500,000 international visitors at the world's largest contemporary art festival, the Venice Biennale. With the absence of a Palestinian Pavilion at the Biennale, this is an exceptional opportunity to uplift Palestine on the world stage while building on the incredible legacy established by brilliant Palestinian artists who have previously showcased their talent and culture at this prestigious art event.
Taking place in Venice, Italy, from April 23 to November 27, this global occasion will bring together 19 Palestinian artists, from Gaza to Haifa, Jerusalem to Houston and Amman to Sydney, who will share their culture with a global audience. The incredible exhibit lineup will include paintings, sculptures, installations, music, embroidered Palestinian thobes (traditional dresses), oral histories and more, which will capture the diversity and power of the Palestinian story. we need to raise $280,000.  This is our chance to shed light on the richness of Palestinian tradition while inspiring curiosity, education and love for Palestine. By donating to the Palestine Museum US Fund at the Center for Arab American Philanthropy (CAAP), we give Palestine the visibility it deserves.
In order to make this remarkable opportunity a reality, 
For a list of participating artists in the exhibit From Palestine with Art, as well as other information, visit here.