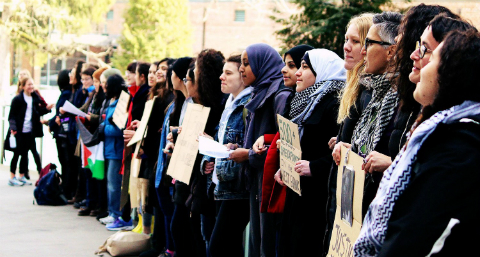 The Problem: Censorship of Palestine Advocacy in the United States
Speaking out for Palestinian rights has long been taboo in the US.  The tides are now beginning to shift, from the growth of campus groups like Students for Justice in Palestine (SJP), to the increasing successes of boycott, divestment and sanctions (BDS) campaigns, to everyday people calling for a change in the status quo. But as solidarity with Palestinians struggling for their rights reaches new proportions in the US, so too does the backlash against it.
Today, on college campuses, students are disciplined for holding peaceful protests for Palestinian rights, harassed on social media for their activism, and publicly blacklisted in efforts to jeopardize their careers.  Professors are fired for tweeting about assaults on Gaza, or face intimidation for publicly sharing their views.  Events that highlight the Palestinian perspective are canceled in response to pressure campaigns. Groups are threatened with lawsuits for supporting BDS, and lawmakers have introduced legislation around the country targeting BDS.
Israel advocacy groups are relentlessly pressuring government actors, universities and other private institutions to condemn, censor and punish those who support Palestinian rights. These efforts undermine our constitutional rights to express dissent, and take a stand for justice.
The Palestine Legal Fund: Protecting the Right to Stand for Justice
Palestine Legal provides dedicated, professional, free legal support to advocates who are on the receiving end of these attacks. From legal advice and representation, to Know Your Rights education, to public advocacy, Palestine Legal plays a critical role in protecting the rights of those who advocate for Palestinian freedom in the face of relentless efforts to suppress them.
Palestine Legal provides invaluable support and resources for activists navigating an atmosphere of intense repression. I can't even count the number of times I've turned to them personally. – Omar Zahzah, Activist and Client
By protecting the right to engage in debate, discussion, and political action, Palestine Legal ensures that advocacy for Palestinian human rights is amplified, not silenced. Support the work of this critical organization through the Palestine Legal Fund.
Donate to this Fund