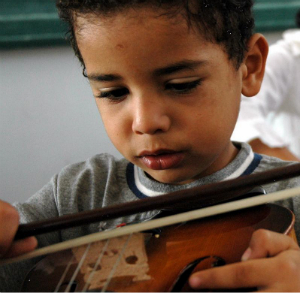 The Music for Palestine Fund was created to support the nonprofit organization Al-Kamandjâti in Palestine, founded by violinist Ramzi Abu Redwan from a refugee camp near Ramallah. The organization's vision is to introduce and promote musical education and appreciation as an integral part of Palestinian life. Al Kamandjâti teaches music to Palestinian children and strengthens their appreciation of Palestinian culture and identity, making music more accessible to Palestinians overall.
Al Kamandjâti aims to establish music schools for the most vulnerable Palestinian children – those living in refugee camps and marginalized or remote locations. The organization offers children the chance to discover their cultural heritage and to provide access to global opportunities to grow their creative potential.
Additionally, the program envisions that the students who complete their studies under the tutelage of experienced professors will return as teachers themselves to pass along their knowledge to new generations of aspiring Palestinian children.
Help us revive Palestinian musical education and innovation by giving to the Music for Palestine Fund.