FIFTH ANNUAL THREADS OF GIVING GALA
Honoring this year's Outstanding Arab American Philanthropist of the Year, Rania Succar
Event Information:
Friday, Sept. 22, 2023 at 5 pm
Guglielmo Winery
1480 E. Main Ave. Morgan Hill, CA 95037
The evening will include a cocktail reception followed by a seated dinner and a classical Arabic musical entertainment program. Suggested dress is semi-formal.
ABOUT RANIA SUCCAR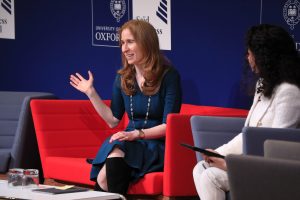 Rania Succar is a life-long social entrepreneur and an accomplished business leader. She is the co-founder of Jusoor, a global non-profit that has provided education opportunities to over 10,000 Syrian children and youth.  She is also the CEO of Intuit Mailchimp.
Rania is passionate about closing the opportunity gap that exists for children and youth in the Arab world.  She co-founded Jusoor in 2011 with that purpose in mind.  Facing one of the worst humanitarian crises in history, Syria stood to suffer from a lost generation.  Rania and the Jusoor team were determined not to let that happen.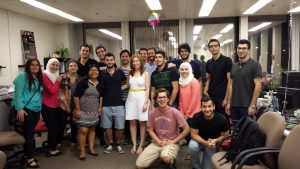 Over the past 13 years, they have developed and scaled education programs around the world that have created tremendous hope and impact among Syrian youth.  Through these programs, they have directly educated over 10,000 young people and impacted the lives of thousands more.  To achieve all of this, Rania and team have galvanized a community of thousands of supporters from around the world to come together.  Prior to founding Jusoor, Rania co-founded the Harvard Arab Alumni Association, which has grown to become one of the most thriving alumni organizations in the world, with the ambition of accelerating economic development in the Arab World.
Rania has pursued her non-profit work alongside a very successful business career.  She is a mission-driven leader and is passionate about the role technology can play in accelerating economic development.  She is currently the CEO of Intuit Mailchimp and, through her work at Intuit, is focused on powering prosperity for small businesses around the world.  During her time at Intuit, Rania has led teams to launch several highly innovative offerings, enabling small businesses to get paid faster, access capital when they need it, improve cash flow visibility, and increase sales.
Rania received her MBA at Harvard Business School, an MPA in International Development from the Harvard Kennedy School, and an AB from Harvard College.  Rania lives in the Bay Area with her husband Kourosh and their two children, Salma (5) and Dara (3).  They love to cook together, travel together and spend time with the kids' grandparents, cousins, and aunts and uncles!
CENTER FOR ARAB AMERICAN PHILANTHROPY (CAAP) 
The Center for Arab American Philanthropy (CAAP), a national institution of ACCESS, is a national community foundation with the objective to unite and empower the Arab American community by demonstrating the impact of giving together. CAAP improves communities through grantmaking, serves donors by providing smart charitable giving tools, and shapes perceptions about Arab Americans by highlighting their exceptional contributions to society.
Proceeds from this year's Threads of Giving Gala will support CAAP's mission to improve communities through grantmaking by supporting Arab American human services and arts & culture organizations across the country.
Thank you to our generous sponsors:
Underwriters: 

Mr. and Mrs. Basem and Muna Hishmeh


Patron: 
Mr. and Mrs. Ghassan and Manal Saab
Ms. Rania Succar and Mr. Kourosh Vahabzadeh
Supporters: 
Mr. Peter Farah and Ms. Jennifer Caldwell
Dr. and Mrs. Walid and Rasha Demashkieh Mr. and Mrs. Reyad and Maya Fezzani Dr. Kamal M. Itani and Mrs. Gheed Amara Itani
SPONSORSHIP AND TICKET INFO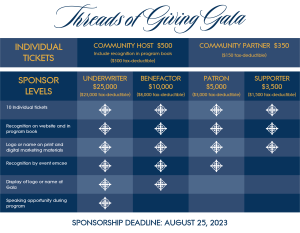 Tickets are no longer available for this event
Accommodations: 
For your convenience, a block of rooms has been reserved at the Courtyard by Marriott San Jose South/Morgan Hill for a  discounted rate of $149 per night from Thurs. Sept. 21 to Sun. Sept. 24. The deadline to book is Aug. 30. Click here to make your reservation.
We also would like to offer some local hotel recommendations for those wanting to stay near downtown San Jose. We do not have a room block at these hotels.
San Jose Marriott (25-minute drive from gala venue)
Signia by Hilton San Jose (25-minute drive from gala venue)