JOIN US FOR THE FOURTH ANNUAL THREADS OF GIVING GALA
Honoring George Jalinos with the Outstanding Arab American Philanthropist of the Year Award
The Center for Arab American Philanthropy (CAAP) is pleased and honored to announce lifelong giver George Jalinos as this year's recipient of the prestigious Outstanding Arab American Philanthropist of the Year Award. George will be recognized at CAAP's Threads of Giving Gala on Thursday, Sept. 8, 2022.
The evening will include a cocktail reception followed by a seated dinner and a classical Arabic musical entertainment program by highly acclaimed music ensemble, the New York Arabic Orchestra. Dress code is business formal attire.
Event Location:
The Loeb Boathouse
East 72nd Street and Park Drive North
New York, NY 10021
ABOUT GEORGE JALINOS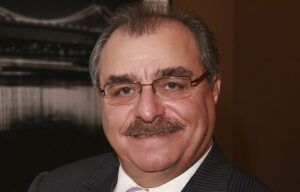 Driven by his family's values of paying it forward, George N. Jalinos has dedicated his time, talent and financial resources to uplifting individuals and organizations, ultimately bringing transformational change to communities in the United States and the Middle East. In his early twenties, he established the first youth group in the US dedicated explicitly to shedding light on events and relations between the people of the US and the Middle East. His love for his heritage inspires him to uplift the Arab American story through several impactful initiatives, such as through his advisory board membership with the Arab American National Museum and its highly recognized Little Syria Exhibit. George was instrumental in helping establish the Salaam Club of New York Foundation, assisting the institution raise and distribute over $1.5 million in support of various charities, including Arab American organizations, across the country and in the Middle East.
George's compassion for humanity drove him to be one of the initial organizers and continued active members of the NYC Hope and Heritage Committee for ALSAC (American Lebanese Syrian Associated Charities)/St. Jude Children's Research Hospital, which organizes annual galas that have raised close to $1.5 million to help heal young children battling cancer across the country. Through his work with chivalric organizations in the Middle East, such as The Equestrian Order of the Holy Sepulchre of Jerusalem, George continues to provide assistance toward helping people of all faiths and backgrounds in the region. More locally, George's involvement with organizations such as the St. Nicholas Home for the Aged and the Arab American Family Support center ensures underserved communities are equipped with critically needed resources and support.
In addition to his international career at Citibank and subsequent long tenure with a New York-based international family office with substantial US commercial real estate holdings, George also established The Galen Group, Inc. and Galen Realty LLC., focussing on commercial real estate asset management services. As an accomplished professional in the finance and real estate industry, George has committed much of his influence and giving to empowering others in their professional journeys and successes such as through his long tenure five-term, fifteen-year, board membership with the Arab Bankers Association of North America (ABANA). His work with ABANA built bridges between financial professionals in the US and the Middle East helping it to become currently recognized worldwide as the preeminent organization of its kind.
NEW YORK ARABIC ORCHESTRA 
Founded in 2007, the New York Arabic Orchestra has been a trailblazer in preserving and showcasing Arabic music by hosting performances in some of the world's most prestigious venues, including Lincoln Center Out-of-Doors, Damrosch Park, Detroit Symphony Hall, Festival Musicas Do Mundo in Portugal and the Taipei Silk Road Music Conference in Taiwan. Through its incredible educational programming and innovative Arabic compositions, NYAO inspires countless individuals—Arab Americans and others—to transform their lives toward the pursuit of Arabic music. NYAO inspires communities across New York and the entire country to embrace the legacy of music from the Middle East/North Africa region. Learn more here
CENTER FOR ARAB AMERICAN PHILANTHROPY (CAAP) 
The Center for Arab American Philanthropy (CAAP), an ACCESS institution, is a national community foundation with the objective to unite and empower the Arab American community by demonstrating the impact of giving together. CAAP improves communities through grantmaking, serves donors by providing smart charitable giving tools, and shapes perceptions about Arab Americans by highlighting their exceptional contributions to society.
Proceeds from this year's Threads of Giving Gala will support CAAP's mission to improve communities through grantmaking by supporting Arab American human services and arts & culture organizations across the country.
SPONSORSHIP AND TICKET INFO