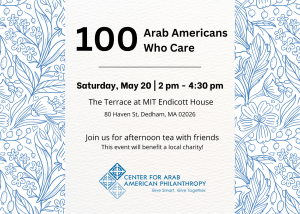 Arab American philanthropists Gheed and Kamal Itani will be hosting Massachusetts' first-ever 100 Arab Americans Who Care! We invite you to take part in the powerful event where a community of Arab Americans from the local area will come together and showcase the power of Arab American generosity.
How it works: Each participant will make a tax-deductible contribution and nominate a worthy charity. On the day of the event, attendees will vote on which charity will be granted the pooled donations.
Join us for afternoon tea with friends and an opportunity to collectively support an important cause.
Please nominate an organization when you register to attend. Unsure of who to nominate? Check out our list! 
*CAAP retains up to 20% of funds raised for administrative cost
Ticket Sales are Now Closed for the 100 Arab Americans Who Care Event.